It's the final part of our Startup Series, and wow, we've covered some ground. We've looked at considerations for forming your startup, the best tech stack for remote working, the importance of knowing your market and we've explored how to get funding and investment for your startup. With the concluding part focusing on how you can grow your startup, this 5-part series has been designed to take you through your startup journey from start to success.
The startup growth stage is exciting and a fast-paced environment - it's time to focus on getting in front of more of the right customers to increase your chances of business growth. Creating more awareness by advertising your business can attract new customers and increase your sales. Who doesn't want that, right? Weighing up how best to dive into the world of advertising can be time consuming, but if you've been an avid follower of The Startup Series you'll know we're here to help. In this blog we'll look at the various options available to you when it comes to advertising and promoting your business.
How to grow your startup business
Preparing to grow your startup
It's important to think of startup business growth not just in terms of increased sales, but also increased profitability too. Before you jump head first into marketing and advertising your product or service, you need to ensure you're prepared and ready to grow. When a business grows, cracks and fractures can begin to surface. You must make sure your business has strong foundations that are capable of supporting the company during this growth stage. The foundations of a business are generally based on things such as;
Strong leadership

Productive and efficient team structure

Culture and values

Customer service/success

Cash flow and supply chain

Sufficient software systems

Marketing investment
Whilst also having the resource to facilitate the above, whether that be funds, enough employees to deliver or having enough suppliers, you'll need to review and evaluate these factors to identify any potential weaknesses. Growing too quickly without solid foundations is a big risk. The business must still be able to deliver even if it grows. The basics must be in place in order to be able to do this successfully.
As your business grows, it's likely that you'll need to hire more staff. Before you start you'll need to think about the job roles needed to expand your team and the qualities you're looking for. The aim is to build a great team at all levels and it's essential to create the right company culture and an environment where your team wants to be and to succeed.
There may be some job roles that you might consider outsourcing too, such as accounting tasks. Having reliable and trusted external expertise can free up your time as a leader, meaning you can remain focused on the bigger picture.
As we mentioned above, when a business grows things like customer service levels can sometimes deteriorate, but having the right staff and processes in place can, and clear internal communication, can help to keep quality and standards high during this growth stage.
An Introduction to Marketing & Advertising Strategies for Startups
Here we'll explore the different ways you can reach new customers, as well as existing through marketing and advertising your product or service.
In its simplest form, marketing is a business discipline which aims to identify customer needs and how best to meet them, profitably. It provides the strategic input required to run successful marketing communications campaigns. Advertising is the exercise of paying to promote your product or service through different media channels. It's often said, creativity without strategy is called Art, but creativity with strategy is called Advertising. The different types of advertising are generally categorised into online and offline activity which create a network of touch points that customers will potentially engage with. Press & Public Relations can also be considered as an alternative lower-cost, but less immediate or guaranteed, way of building brand exposure and increasing sales.
Digital Marketing for Startups
Digital marketing is communication delivered through online channels like search engines, websites, social media platforms, emails, text messaging and apps. And with each channel comes different methods of communication, such as Paid Search, Display Advertising, Search Engine Optimisation, Organic and Paid Social Media. It's important you have a solid understanding of each, in order to utilise these channels effectively.
Paid Search or Pay-Per-Click (PPC)
Paid Search is the process whereby search engines enable businesses to advertise on their search engine results pages (SERPs). It works on a pay-per-click auction basis, with advertisers bidding on chosen search words and phrases relevant and important to their business, in order to secure an ad placement which will appear above search results. Businesses are charged only if someone clicks on their ad, however close monitoring is required to ensure spend is controlled adequately.
Search Engine Optimisation (SEO)
SEO is a method used to increase and improve the quality of traffic to a website from search engines organically, rather than paying to appear via PPC. This is done by optimising your website content so a search engine is more likely to show it as a top result when someone searches using keywords or phrases relevant and important to the business. Google crawls websites and indexes the content it finds - and its algorithm determines the relevance of that content to the search term - the greater the relevance, the higher up the SERPS the result appears, naturally.
Display Advertising
Online display is often graphic/visual advertising on websites, apps or social media through banners, MPUs or other formats. Made up of text, images, sound, video to encourage click-through to your website, display ads can be created and placed via your Google Ads account, where you can target and set placements. But display ads can also be generated as added value opportunities via newspaper and magazine websites, who offer this and other digital marketing activities, in conjunction with their traditional print advertising.
Paid Social Media
Paid Social is effectively display advertising on social media. Ads in varying formats can be created through Facebook Business Manager, where you can target audiences based on various geo-demographics and interests. Ad placement can also be customised to appear on Facebook and Instagram. In fact, all social media platforms offer similar advertising options, such as Twitter and LinkedIn. Pinterest also has paid post options available.
Many businesses are also exploring newer platforms like Tik Toc to drive brand awareness, create trends and connections through creative short videos.
Email Marketing
Email marketing involves the sending of GDPR compliant emails to a group of people, such as customers, prospects, website sign ups, with the purpose of providing information and developing relationships. It is still classed as one of the most effective marketing tools. 76% of UK businesses describe email marketing as 'important' or 'very important'. Emails should be content-led and have purpose and benefit to the recipient - they're relatively quick and easy to produce and are cost-effective - 66% of businesses report email ROI as 'good' or 'excellent'. There are numerous email marketing platforms that you can utilise such as Mail Chimp, Constant Contact and Dotdigital, all with varying capabilities and pricing options.
Content Marketing / Digital PR
Content Marketing aims to create, publish and distribute useful and interesting information created for a target audience online. It does not directly promote or push sales. Content marketing looks to inform and educate, whilst building brand awareness. Examples of content marketing are eGuides, educational articles, infographics, videos, webinars, blogs etc. Digital PR is the art of pitching information of this type to relevant journalists and publishers - our latest digital PR campaign is our Digital Nomad Index. For this we looked at a range of factors from the cost of internet speed and scores on the Global Happiness Index, to the monthly rent of a one-bedroom apartment, amongst other factors, to reveal the best cities to be a digital nomad in. It makes a great read, and it was even picked up by Forbes.
SMS
Like email marketing, SMS marketing is to send text messages to customers' mobile devices to inform them of promotions, new products or product launches, sale announcements etc. It is becoming an increasingly essential part of many GDPR compliant multi-channel marketing strategies. Like email, it is very cost-effective and can support other marketing efforts. For broadcast solutions check out TextBurst or Firetext.

Traditional methods of Marketing Communications
Before the advent of the digital age, traditional advertising/media agencies were an essential source of brand, media and marketing expertise. In the last decade or so agencies have increasingly specialised and the growth in digital agencies of all shapes and sizes (and abilities) has been accompanied by the traditional shops extending their offer into digital - the result is a plethora of agencies of all types - some who claim to do everything, and those who are niche.
Traditional methods of advertising, promotion and PR are:
Commercial TV
TV has the largest reach of all media, and is the most effective brand awareness channel. TV advertising is typically a 30 sec announcement or product demonstration video shown between programmes on TV. Sponsorship of programmes has evolved in recent years as another method of exposing a brand to a TV viewing audience. Over the years, commercial TV has evolved and introduced modern ways of viewing, and with that, advertising on this medium has evolved too. It's now possible to target your ad campaigns based on geo-demographic data using network providers like Adsmart from Sky or ITV Hub. Utilising these methods can make your money go much further, as they're sold on a cost per thousand impression and frequency basis.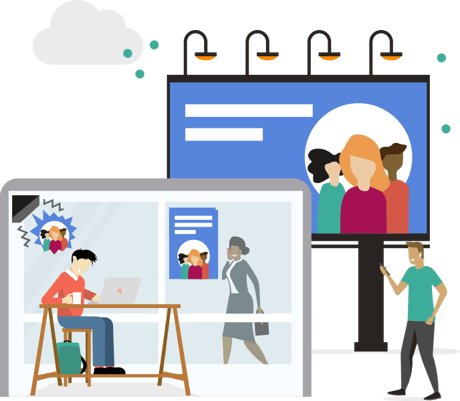 Commercial Radio
Radio is best used as a high frequency, high reach medium. It's bought on a spot or ratings basis, and all sorts of businesses and organisations use radio to promote their brand or services. Radio campaigns are generally 30 seconds in length, with one or more executions, that are broadcast during pre-agreed dayparts. Costs can vary hugely between stations, and are based on quarterly RAJAR audience data that provides information re listenership - this data has a direct effect on cost. Like TV, media companies that own radio stations have also evolved with digital listening, and have developed the advertising opportunities they can offer by tapping into this. Using DAX (Digital Ad Exchange), a business can target an online listener if they're listening to radio broadcasters on connected devices (Smart Speaker, Laptop, Mobile, Tablet) or listening to streamed services like Spotify.
OOH (Out of Home)
Out Of Home is basically visual advertising that takes place outside - on roads, rail or retail sites. The billboards you see on the roadside are outdoor estates that belong to media companies like JCDecaux, Clear Channel or Global, and up until the last few years have mostly been print based. As with many other media channels, they've also embraced digital opportunities, and their estate is rapidly changing to reflect this – for example the digital display boards in airports or train stations.
Print advertising
Print advertising is physically printed media, placed in numerous types of publications, such as newspapers (categorised as national, regional and local press) and magazines of all types. When selecting this type of medium you should check claimed circulation numbers (ABC audit figures are generally accurate), readership per issue, readership profile, and costs for the various types of ad format available. All publications have up-to-date media packs, usually available via their websites, so you can make an informed decision.
Print advertising also includes door drops – an unaddressed or partially addressed item, and direct mail – a GDPR-compliant personalised addressed item, both delivered through the letterbox by Royal Mail or third-party distribution companies. They can take the form of low-cost flyers, personalised letters in envelopes, leaflets and brochures.
Press & Public Relations
PR is a discipline which manages the spread and distribution of newsworthy information to affect public perception and enhance business reputation. PR agencies use the power of persuasion to encourage trusted third parties to talk about your business, as well as responding to journalist requests for spokespeople and comments relating to topical copy. It's business exposure that is not paid for or guaranteed like advertising, but does incur agency fees if outsourced.
How to evaluate your Startup's Marketing Efforts
Once you have a clear understanding of the advertising channels available to you, it's important to define clear key performance indicators (KPIs) and how you define your return on investment (ROI). These measurements are metrics of how well your activity is working.
For example, the important part of setting a KPI is choosing what you should measure. For a PPC campaign you'd track things like Click-through rate, conversion rate, cost per acquisition, etc. Whereas for a Digital PR campaign, your KPIs would be slightly different. Here you might look for increased organic traffic and a lift in sign-ups. In contrast, if you were setting KPIs for a radio campaign you'd be looking at things like branded organic or paid search traffic, social media follower increases, or a rise in direct traffic to your website or store.
The ROI will measure the associated cost based on these metrics and determine whether it was worth it relative to its cost. For example, if you used direct mail to communicate a Sale to your existing customers, you'd analyse all the sales between a specific time frame relative to the Sale period. If existing customer sales and order volumes are up on the same period last year, this will indicate the campaign has had the desired effect.
It's important to remember that you should view marketing and advertising as an investment in your brand, rather than a cost. Start with test campaigns and evaluate the results, adapt as you go. Always refer back to the objectives and bear in mind that just because you can, doesn't mean you should.
And there we have it, The Startup Series is complete - we do hope we've been able to provide lots useful information and insider tips. If we've managed to help you in any way, or if you have any questions, we'd love to hear from you - just head to our Twitter or Facebook pages. You'll also be able to keep up-to-date with our latest integrations and features for our cloud-based telephone system.

About CircleLoop
CircleLoop is a modern cloud-based phone system that can be set up in a matter of minutes. It's accessible anywhere, just download the app to your devices whether in the office or at home. And, if business is just starting up, growing or established we have the solution to suit your communication needs. With powerful features and integrations you'll have all the tools to help save you time and increase productivity.