Welcome to part two of The Startup Series! In part one we covered everything you'll need to consider when forming your startup, everything from the importance of a business plan to business banking and company structure. Here we'll get into what makes the perfect tech stack that can be used in the office, and remotely. Year 2020 has shown us that we need to be ready for anything, to be reactive, adaptive, and flexible. And your tech stack, now more than ever, needs to be able to accommodate a changing working environment.
What is a Tech Stack?
A tech stack is the combination of software tools or programmes that a business can utilise to make it run more efficiently. It's like a framework of foundations that enable specific projects or tasks to be effectively carried out. It generally includes tools such as messaging apps, CRM systems, phone systems, and collaboration software, and even accounting and recruitment tools. Everything from customer management and communication to project management and social media.

Now, a tech stack will vary from business to business to suit specific needs, size, and business objectives. In this blog, we'll focus on tools that can be utilised in an office environment but which can also facilitate remote working for a dispersed team and employees, so should Lockdown 3.0 happen, you'll be ready. Every tool or programme we feature is accessible anywhere, so whether you're back in the office, or your employees are working from home, productivity and efficiency won't be affected. We go through some of the common tech stacks areas below.

Best Tools for Startups
A Messaging App
Why You Need a Messaging App
There are so many advantages to utilising a messaging app within your startup. It's become almost a standard custom for office communication. Sharing anything from day-to-day company news to employees building working relationships with colleagues.

Because of the nature of messaging apps, communication is instant and less formal, encouraging brevity – so communication is straight to the point. There's also less emphasis on formal etiquette like there is when sending an email. They're great for quick-fire questions between colleagues, plus most include basic features such as one-to-one chat, group chat, private forums, video calling, and file sharing. And, as your startup grows, it's productive to keep day-to-day internal communication out of the email inbox – keep your inbox for important client emails.

Which is the Best and Why?
Slack is pretty much the go-to messaging app if you want a chat-powered workspace. It's been created with the user in mind, it's user friendly and has a notification system that includes reminders and unread message prompts.
Its layout is separated into three sections; channels, direct messages, and apps.
Channels are used for company-wide general chatter and also more specific projects. You can create channels as and when you need to. And users can decide which channels to be in, meaning they don't have to be overloaded with irrelevant messages.

Direct messages are used for just that and can be either one-on-one or as a group chat

Apps can be integrated too. You can synchronise calendars, conduct surveys, and add online proofing, design, and approval systems. CircleLoop offers seamless Slack phone integration too.
Slack is great for startups because its basic subscription is free until you require additional features. You'll have all the functionality you'll need to get started, and with its numerous paid options it can scale and grow as your business does.
Visual Collaboration Software
Why You Need Visual Collaboration Software
Probably one of the most used tools during 2020 - remote working is now more common than ever. And it's likely to continue, so utilising a visual collaboration software tool as part of your tech stack will enable remote teams to remain connected whilst maintaining efficiency.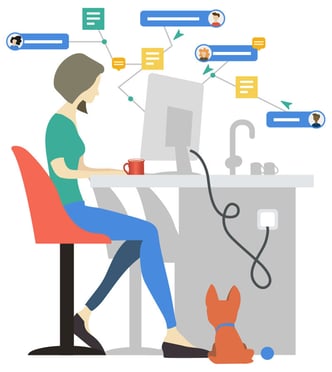 Imagine a digital whiteboard as a shared virtual workspace that can be accessed wherever your teams or employees are. It's an online space where they can work collaboratively either in real-time or asynchronously. Visual collaboration tools are great for:
Ideation and brainstorming

Planning projects and creating strategies

Meetings and workshops

Decision making and prioritising tasks
Which are Best and Why?
Miro is great for startups. Its free subscription version is a great place to start, and includes three editable boards, anonymous board viewers, pre-made templates, core integrations, and basic attention management. With unlimited team members, it has several paid subscriptions too, meaning that Miro can be scaled up as and when you need it to.

It has an extensive template library too, so teams can work on read-made templates designed for specific objectives – such as brainstorming, workshops, UX Design and Research, Project management to name just a few. They even have Icebreaker challenges for kick-starting conversations and creating a relaxed atmosphere online.
Reliable Business Phone System
Why You Need a Business Phone System
Phone communication is a key part of any business. And although there are many alternative forms of communication, phone systems are still one of the most important. Meaning that many startups will need a powerful, reliable, and scalable business phone system.
Which Phone Systems are Best and Why?
Traditional landlines nearly always come with long, expensive contracts and require new hardware every time you take on a new hire. Hardware is generally immovable too, meaning that it can only be accessed from that location – not ideal when working from home has been, and still is very much a working reality. But, there are great modern alternatives out there.
Cloud-based phone systems and internet-based phone providers (known as "VOIP") are popular choices, especially in the current climate. VOIP runs a phone service through your internet connection instead of a local phone company. Whereas a cloud-based phone system runs the phone service through a desktop or mobile app. Making the need for a separate business phone obsolete.
Now, both business phone systems are more favourable when compared to the traditional landline. But a cloud-based phone system for startups is generally more suitable, primarily because they allow your team to make and receive business calls wherever they are. You can switch between local, national, and even international phone numbers so your business can seem much bigger than it is to your customers. Plus, there are many additional efficiency features and integrations that make your life easier. Including call analytics reporting for your business and access to virtual numbers.
It's really important you choose a phone system based on the needs and objectives of your business. If you'd like to learn more, download our free guide to Choosing a Phone System for your Startup.
Customer Relationship Management (CRM) System
Why You Need a CRM
A CRM system (Customer Relationship Management) helps manage customer data. By utilising a CRM system, you can manage sales, customer insights, marketing, social media, and customer service and support. A CRM system allows your team to productively manage everything they need to drive success.
Which CRMs are Best and Why?
HubSpot is one of the most popular CRM systems. It's user friendly and is suitable for various industries. It's an all-in-one marketing suite, featuring a built-in CMS tool and over 150 integrations, providing startups with all the tools needed to scale and grow.
It can be accessed anywhere, and different team members or employees can be given different access permissions by their job roles. Plans and pricing vary on business needs, but Hubspot does offer a free basic plan to get started.
Similar tools like Capsule CRM and PipeDrive are aimed at smaller businesses and offer easy access points with free plans which will meet the requirements for most small businesses. These CRM systems can also easily integrate with other applications to provide further features such as Hubspot Call Integration, Capsule Integration and Pipedrive Call Integration.
HubSpot Call Integration
with CircleLoop
Keep your team in HubSpot, make better calls and track client communications effortlessly with CircleLoop's HubSpot integration.
Project Management Software
Why You Need a Project Management Platform
Dynamic and fast-paced working environments are generally associated with startups, so be sure to maximise productivity across your team by using a project management tool. By utilising this sort of platform you can ensure that projects are organised properly and workflow is efficient.
Which Project Management Platforms are Best and Why?
Trello

and

Basecamp

are good choices for startups because of their intuitive, user-friendly interfaces. Trello, with its focus on visual display boards, is best for smaller teams. The drag and drop cards are interactive and allow teams to keep track of task details. But Trello's task boards aren't suited for complex projects. We use a Trello board for our

CircleLoop product roadmap.

This is where you can view some of our plans for

CircleLoop, and where users can vote on the features that are most important to help us decide what to deliver and when.
Basecamp is comprehensive yet straightforward, offering communication and collaboration tools. Although it's not as easy to use as Trello, it's still highly user friendly and caters to more complex and detailed projects. It's more expensive than Trello but is a great investment for companies who are looking to grow.
We would suggest reviewing tools like Teamwork, Confluence, and Monday. They provide additional functionality and are probably better suited to larger businesses as you grow.
Social Media Planning Tools
Importance of Social Media for Startups and why you need the tools
Social media can sometimes be lower down on the priority list for some businesses but utilising a social media planning tool can help to save time and resources when it comes to planning and scheduling posts. In the age of social media, it's important to try and keep your social media pages up to date.

Which Social Media Tools are Best and Why?
When choosing a social media tool, you'll need to look for those that are most suited to your chosen social networks - some tools are better suited to different platforms. You'll also need to decide whether you want a management tool or a content publishing tool and the budget you want to allocate towards it.

Hootsuite is a platform that allows you to create and track social media campaigns. You can manage multiple social channels at once and analyse the content you've posted. It is a social media management tool, so you can engage and respond to the content you've posted. It's a sophisticated system that brings all aspects of your social media together and integrates across all social networks.

Data Storage
Why a storage tool is needed for startups
Data storage is essential for all businesses and cloud-based storage provides a cost-efficient solution to the storing of vital data without having to invest in expensive hardware or needing to require physical space. Storing data in the cloud means it can be accessed from anywhere you have an internet connection, and by whoever you give permission to - easily and most importantly, securely.

Google Drive is a file storage and synchronisation tool service that allows users to store files, synchronise files across devices, and share files. Its suite of applications makes collaborative working smarter - allowing teams to work on the same documents or spreadsheets in real-time. Teams can easily share files during Google Meets and Hangouts as well as video calling and recurring meeting invitations. It's suitable for all kinds of businesses and it's free of charge with 15GB of space - not bad at all!

Dropbox is another worthy storage solution, the original online storage unit. It is great for sharing imagery and creating image archives that can be shared with people outside of your organisation. Plus, it has productivity tools and content collaboration functionality. However, with a free account space is limited to 2GB.
Tech Stack Sorted?
It can be difficult choosing a tech stack that is right for your business, but if you choose tools that run parallel to your business objectives you won't go wrong. In today's uncertain working environment, making sure the tools or programmes can be accessed anywhere is important.
CircleLoop offers integrations for key startup tools mentioned above, to find out more about CircleLoop visit our dedicated startups solutions page.
Look out for our next blog post in the Startup series where we will be diving into market knowledge and insights.