Got a business idea, and think you have the entrepreneurial drive to turn it into a start-up on the journey to success?
Having been through what you are about to embark on we wanted to share our knowledge and experiences with you when it comes to starting and scaling up.
We've produced The Start-up Series – a 5-part blog sequence to help you navigate your way through your new start-up journey. It includes expert advice from members of our business and we give shout-outs to companies and agencies we have used to make our life easier.
CONTENTS
The Start-up Ecosystem
In 2019, there were 681,704 new business formations – a record high!
And these new businesses turned over a whopping £650m – now that's pretty good going. What's even more impressive is that their projected turnover for this financial year is £1.3b!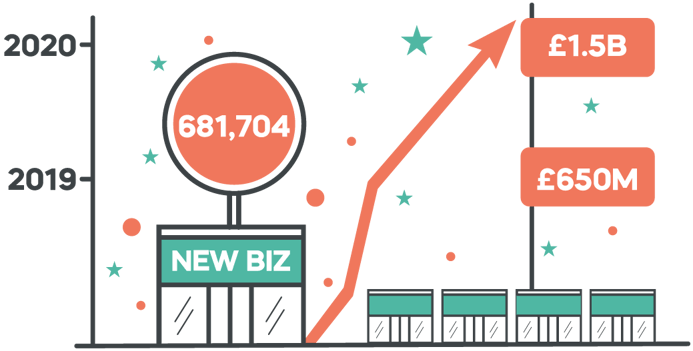 2020 may have thrown a COVID-19 shaped curveball, but Google search term analysis indicates that this has only spurred on aspiring business and entrepreneurs, with the search term 'how to start a business' increasing by nearly 20% on average compared to last year.
We believe 2021 will see the number of new business formations surge. Perhaps to over 1 million as the macroeconomic climate drives more people to create either a new business to replace a lost job or even a 'side hustle' business to compensate for the loss of income in 2020 due to COVID-19.
According to the ONS, 89% of businesses survive their first year, which is encouraging. The steps you take at the beginning can be the difference between success and failure, so let's start there...
Business Plan Preparation
Fail to plan. Plan to fail. We all know that phrase. It's true. Try your best to make sure you have done your research and created a sound business plan. A business plan is a formal document that describes your business and includes things like objectives and strategies, marketing, sales, and financial forecasts and projections. It also helps identify any potential problem areas too.
The financial section of your business plan is very important. It will often give you insight into whether your business is a viable idea. Projecting your sales income and understanding your costs from the start will tell you what you need to take in sales each week, or month for you to be profitable.
Not having a business plan is one of the most listed reasons why businesses fail.
Naming and Domains
If you've got this far, you'll probably have named your new business. But if you haven't, think about what your business conveys and the benefit to the customer. A name with a story behind it. Or on the other end of the spectrum, think about a memorable word that you think your customers will remember. Then put pen to paper and write down some possibilities. Try to keep it short, simple, and easy to write and remember. And don't forget to say it out loud! Check if anyone else in your sector has the same name, with any legal protections, as very few names are unique.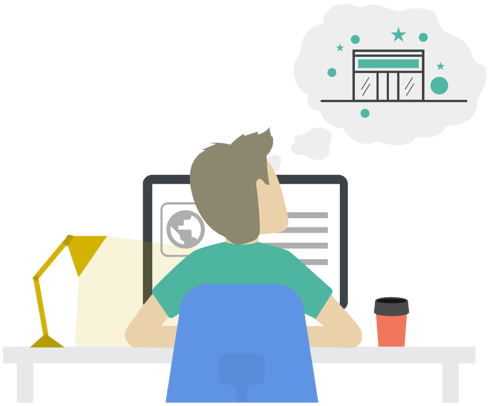 Got your name? Great.
Your business will need a website – having an web presence is hugely important for numerous reasons;
Credibility and professionalism – first impressions count.

Customer acquisition through Google.

Showcase and/or sell your product or service.
Your website is also a place for potential customers to gather more information about you and refer to any testimonials or reviews from your existing customers. It can play an important part in a customer's decision-making process. So, securing an appropriate domain name is crucial. We may be stating the obvious here, but your domain name will need to be relevant to your company name.
You can choose a domain name through various domain registration websites. When we set up CircleLoop, we used 123-reg. A highly regarded British domain registrar company whose primary focus is working with small and medium business owners. Domain names start from 99p, you have the option of domain extensions with dot com being the most desirable (.com). You also have access to a website builder. Meaning that your whole online presence can be generated there.
Every business also needs a business phone system and a phone number, (or more than one if your business requires). Your prospective customers will need to know how to reach you. And, as a startup or smaller business you'll need to look professional. At CircleLoop, we can provide you with everything you need to run a professional business from anywhere, whether that's your bedroom or a swanky office. There are no hardware costs, and our global phone numbers let you create a virtual presence in towns and cities of your choice. Plus, because it runs in apps you can access it anywhere, meaning you never have to miss a call.
Company Structure
When starting a business you'll need to think about which legal structure best suits your type of business. It affects things like tax, National Insurance, and financial liability. And the Company Formation or Registration process will vary depending on the type of business you are setting up.
If you are a Sole Trader, the set-up is simple. You are self-employed and running your own business. You'll register for Self-Assessment and file a tax return annually. You'll be solely responsible for any business debt and any accounting responsibilities too. Any profit your business makes is yours (yay!), once you've paid tax of course.
For a Limited company, i.e 'Limited by shares' or 'Limited by Guarantee'. The main difference between the two is that 'Limited by shares' businesses usually make a profit and have shares and shareholders, whereas 'Limited by guarantee' are usually 'not for profit' companies that have guarantors and a 'guaranteed amount' and invest any profits back into the company. Business finances will be separate from personal finances. And, it will require more reporting and management responsibilities. It's a more complicated process so many people find it useful to get help from a professional, such as company formation agents or accountants.
All limited companies must have Articles of Association. They're a set of rules that companies must follow when it comes to running their company. They outline things like Directors' powers and responsibilities and decision making by Directors and by shareholders. There are different models of association relating to whether your business is limited by shares, or by guarantee. And, often these are the same "model" Articles but are adapted to meet the needs and provisions of your business. You'll find lots of information about Articles of Association on the Government website.
Partnerships are a simple way for two or more people to run a business. To set up a partnership you need to choose a 'nominated' partner. This can be a person, or it can be a limited company (a limited company can count as a legal person). Business debt and accounting responsibilities are shared. Any profit the business makes is also shared, and each partner will pay tax on their share. Remember, different rules can apply to different types of partnerships. So make sure you read up on specific responsibilities for your type of business or partnership, your place of work, and hired help – whether agency or freelancer or becoming an employer. You'll also be able to check for any implications during and following the Brexit transition.
We would recommend taking specialist advice when forming your business. This could be from your Accountant, a solicitor, or a specialist formation agent such as Rapid Formations or Formations Direct.
Business Insurance
Remember to ensure you take out adequate business insurances to protect yourself, your employees, and your belongings as you continue on your start-up journey.
We worked closely with specialist business insurer Hiscox in our business and they have a range of well-packaged business insurance propositions.
The typical insurances you need to consider are:
Building & Contents - this will protect your business assets and property within your home or work office from damage, theft, and ensure they can be replaced cost-effectively.
Professional Indemnity - is there to offer protection and support if you or an employee are alleged to have been negligent, or if a client believes you got something wrong that led to financial or reputational damage.
Employers Liability - is a legal requirement if you employ staff, it makes sure you're protected if an employee is injured on your premises or becomes ill and they claim it's because of something that happened at work.
Public Liability - protects you and your business if someone claims their property has been damaged, they were injured or fell ill because of you or one of your employees.
Cyber & Data - especially important for anyone who uses data – including computer programmers and marketing professionals. Any business can face a cyber-attack.
Business Bank Account
It's always a good idea to set up a business bank account, even if you're a Sole Trader. Having a bank for your business means that your personal and business finances are kept separate - this enables you to manage your finances productively and keep on top of payments and check cash flow.
As an example, Starling Bank is great – it was founded by Anne Boden in 2014, and with a challenger mindset, she utilised technology to revitalise and transform traditional banking. The result? 'A fairer, smarter, and more human alternative to the banks of the past' – and we couldn't agree more. We like companies that challenge traditional thinking and can provide a better and more effective service or product. (This was why we created CircleLoop – to challenge the norms in the telephony space.)
Starling Bank has three options for business banking, which can also cover the three types of company registration as mentioned above. They also have a multi-currency account – perfect if your product or service is available in other countries. So, if you're a new start-up, Starling Bank is one to consider.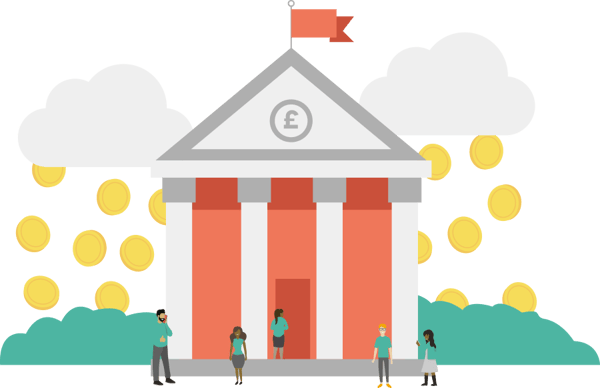 Business bank account ✔️.
Now let's look at what's coming in (and going out) and what that means concerning VAT. If your taxable turnover is more than £85,000, you must register your business for VAT with HMRC. You can do this online or appoint an accountant to look after this for you. They will also submit your tax returns.
When you register your business, you'll get a Government gateway ID. It's generated by HMRC and you'll use this to access your VAT registration, company details, and other information online. If your turnover is less than £85,000 you can opt to register for VAT, or not, depending on the nature of your business.
Regardless of your financial size, accounting is going to be part of your business life.
We recommend using an accounting software tool, such as Xero. We did this from Day-1 in our business and it was hugely beneficial. It took away the head-aches associated with customer invoicing, monthly financial reporting, and accounting. The web-based software integrates seamlessly with your chosen bank account (such as Starling) and brings all of your transactions into Xero. This process then forces you to reconcile and accurately allocate sales income and costs in the right places. You can produce management reports and keep on top of your new business. Meaning your accounts are 100% organised from the get-go!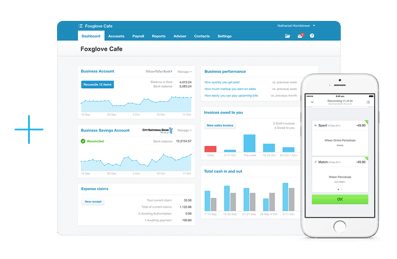 CircleLoop

+ Xero

Add the power of CircleLoop to Xero to streamline your workflows and simplify communication with customers and suppliers, leaving you more time to run your business.
Legal Considerations
When starting a business you'll need to consider legal documentation like Employment Contracts and your Terms & Conditions of Business. It is worth having a legal partner in the event of disputes and issues - this will probably be more applicable as your business grows. But it's always best to be on the front foot, and know exactly what to expect and what is expected of you.
Things you may want to take extra care with are:
making sure contracts are drafted correctly.

that you have the right corporate forms.

that you have arrangements in place between shareholders.

not breaching intellectual property.
Be proactive.
There are some cool legal outsourcing companies out there, like Lexoo, that can help make life easier when it comes to legal work within your business. You can utilise them to save paying excessive legal fees the traditional way per hour "on the clock".
And finally, think about whether you may need any Human Resources (HR) input for your business too, especially for the future as your business grows and your team expands with employees. HR is responsible for planning, coordinating, and supervising administration activity within a business. They'll look after the recruitment process, they're a point of contact for employees for problems or training needs. And, they'll also have input regarding strategic planning for the future.
It's all coming together.
There's a lot to think about and action when starting up, and everything we've touched on has to be done. Yes, it's probably a little bit boring, no one likes admin work. But if you can implement efficiently you'll have more time to spend focusing on the parts of your business you enjoy the most.
It always comes down to efficiency. Efficiency in a business is a pretty big deal. It's a happy word, because when your business is running efficiently, all aspects of your business are working together, and achieving the most productive output.
We recently wrote a blog about how to make your start-up budget work harder and go further. Invest in things that save you time. Now, we're not saying take short cuts, we're saying utilise some of the many great tools out there that can help increase productivity. Tools that enable your business to be adaptive and flexible and ultimately can have a huge effect on your business efficiency.
Look out for our next blog post where we will be covering the Start-up Tech Stack and giving you our hints and tips on tools we have used to help us on our journey. And hopefully, they'll help you too.