Market knowledge is key for every startup, but understanding why it is so important will ensure you stay ahead of the game. In part three of The Startup Series by CircleLoop, we'll explore some of the different approaches of how you can learn more about your market, and give you a simple run down of what you should be taking the time to look at when it comes to knowing your market.
If you missed the first two instalments of The Startup Series, make sure you check them out; in part one, we covered considerations for forming your startup. And in part two, we spilled the tea on the best remote working tools for your tech stack.
Why you need to know your market
Knowing your market is the difference between a successful business and a failing one. Having as much industry knowledge as possible as well as a clear understanding of your market specific to your product or service will not only ensure you're in the best possible position to make business decisions, such as taking a particular product to a particular market, but it also enables you to reach prospects, acquire new business and retain your existing share. It also enables you to seek investment if you are looking to scale up – understanding your market will make your startup far more appealing to those you're seeking investment from.
Benjamin Franklin, a famous US scientist, inventor, politician, philanthropist and businessman once said: By failing to prepare you are preparing to fail.
How to get to Know Your Market
The Addressable Market
TAM, as it's also known, is a formula that many companies use to work out realistic and potential revenue growth for a specific product or service. Think of it as sizing up your market.
The addressable market is the total market demand for a product or service. It is the maximum revenue a business can generate by selling that product or service to a specific market. Businesses use TAM to decide whether it's worth entering the market or not.
It's unlikely that one business obtains 100% of the total addressable market for a product or service. Still, it allows you to estimate opportunity and determine the level of effort and funds that will need to be allocated.
How is the addressable market calculated?
Top-down Approach: Industry data, marketing reports, and research studies are used to identify TAM. It's an holistic view of an economy, so your starting point is the market's biggest estimate size. You'd then reduced it based on information and assumptions known to you of that market – by a process of elimination. This then gives you an estimated TAM. Sometimes it can be misleading because it's still mainly based on assumptions. However, outsourcing to a third-party research company or accessing syndicated research data where possible is a good idea; you'll also have the most up to date and accurate information for your focused area.
Bottom-up approach: is based on your own existing or previous sales and pricing data, meaning it's generally the most trusted approach by investors, for example.
The bottom-up formula is as follows:
TAM = (Annual Contract Value) x (total # of customers)
Start by multiplying the number of sales by the cost of the product or service. This gives you your annual contract value. Then multiply your annual contract value by the total number of customers in your potential market to give you your total addressable market.
Value-Theory: This method looks at the value customers receive from a product or service and how much they're willing to pay in the future. Here you'd look at what your product offers over others and where you can place the cost – your product might be slightly more expensive, but it has a greater benefit to the consumer than your competitor. Or, you might sell your product slightly cheaper because it's not as high spec, but still a worthwhile product.
According to Hubspot, an industry market with a TAM ranging from £30m - £200m per year is worth entering, whereas an industry market size of under £5m and over £1b per year probably isn't. A lower market size suggests the industry size could be too niche, and an extremely high market size suggests it could be over-saturated. And in both instances may not be worth the resources.
Customer/Buyer Personas
What is a Persona?
In a nutshell – customer personas are semi-fictional representations of your target customer based on data and thorough research. Businesses use personas to help them:
Identify prospects/types

Guide product or service development

Make sure

all communication or work carried out within a company aligns
Why create buyer personas?
Having personas for your target audience enables you to tailor content, communication, any product development, and services for each particular audience – you're adapting and adjusting your focus to meet the needs of that persona. For example, our cloud-based telephone system is a great solution for startups, growing and established businesses alike. However, we tailor our content for each type – startups have different needs to enterprises, and we acknowledge this in our messaging.
The best personas are based on market research as well as your customer base and data. Analysing your existing data will give you a great insight into existing customers and help you acquire new ones. A business might have many personas or just a few - and if yours is a business to business offer, you'll also need to think not only about the key decision-maker (eg Operations Manager or Head Buyer), but also the people who influence those decisions (eg MD, Operations Director, Finance Director). If you're starting up, it's best to focus on one or two and get them right first – you can always add more later as your startup grows.
If you want to learn more about how to create a persona for your startup, have a look at Buffer's Beginners Guide to buyer personas. There's a simple step by step guide to get you started.
Beta Testing your Startup's Services
It's nearly time for your product to go to market, but wait, has it been tried and tested by real people? Try not to skip this part!
What is Beta testing?
Beta testing is the final round of testing for your product or service before it's launched into the market, and the aim is to find as many issues with it as possible. You'll have more than likely already carried numerous tests internally with your team and addressed issues discovered accordingly; these are usually referred to as Alpha tests. But what's great about Beta Testing is that it's being tested by real people in a real environment, with the real product or service. You can gain insight into end-user experience, behaviour, and usage, which is invaluable information.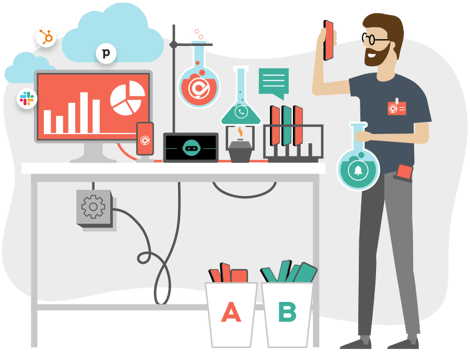 Beta testing can be open or closed. Anybody can do open beta tests, and they usually present messaging with instructions for submitting feedback. Closed beta tests aren't open to everybody. Testers of closed betas are a set of people that can be made up of existing customers, advocates, or paid testers. The test can be time-sensitive or can run until issues are no longer found. You can also run a/b split testing during beta tests. This is where you can adjust messaging or layout and learn which prompts or notifications are most valuable to the user.
Feedback from the beta testing can be used in different ways - to fix issues before launch and gain ideas and considerations for the future.
Find Brand Ambassadors and Advocates
Some companies build customer panels or run ambassador programmes - they're made up of advocates for their brand and/or product(s), they're the people most enthused about it. What's useful with these types of groups is that the sample is usually favourably predisposed, meaning that nuances can be detected that might otherwise not have been discovered using traditional group discussions, or open Beta testing for example. They are also used to give early insight into product development.
A typical format might go something like this:
A qualitative research study - a brand will ask questions looking for insight into how people 'feel' and 'why'. This might be 8 target people per group, with 6 - 8 groups.




A quantitative research study might then follow to a much larger sample. Statistically, a sample of 1000 is reliable, but often studies can have even greater numbers. This larger study will then verify, or not, the qualitative sample findings and insights.
It's important to remember that all research should be used for direction, not as a crutch. Sound interpretation of findings is crucial for choosing the right strategic direction.
You can also use brand ambassadors and advocates to build organic brand awareness. Word of mouth is essentially free advertising - real people, talking about their experience using your product or service. There are software programmes that can build advocacy programmes for you, such as Duel.
Creating Powerful Case Studies
Case studies are a great way to learn more about your customers at a greater depth. Case studies analyse the development of a person, situation or group over time, it also accounts for how something is used, such as a particular product of service.
They can be used to gain new ideas, and enable you to really understand how your product or service is used by a particular type. They're also useful for your prospects as they can demonstrate the value of your product, or service.
We use case studies to demonstrate how our service is utilised by the different types of business that use our cloud-based telephony system. Industry needs vary, so being able to explain how our service can increase productivity and efficiency can be invaluable - if it works for them it can work for me too. Case studies can be great conversion tools.

The Marketing Mix
The marketing mix is the set of tools that a company can use to influence a prospect to buy a product or service. These tools are based on their marketing objectives and strategy.
Traditionally, they're broken down into the four P's of Marketing.
What are the 4 p's of marketing?
Product – this is the 'what'. The tangible product, or intangible if it's a service

Price - the cost of which a customer pays to acquire the product or use a service. You'll need to look at similarly priced products and take into account aspects such as consumer feedback.

Place – where the product or service will be sold. Will the product be sold in a physical store and/or over the phone or online. Or, if it's a service, will this be sold online or face-to-face. The 'place' is important as it helps define the method of purchase.

Promotion is the marketing communication created to build awareness of the product or service, shaping how the customer perceives it, developing a positive brand image and building customer preference. This can be by way of advertising campaigns, both offline and online, or it can be more organic i.e SEO, PR, or even word of mouth - whichever route is right for your business, adequate budget will likely be needed. Building a brand usually takes three things - time, consistency and money.
Other elements have been added recently to the marketing mix for consideration, including factors like Process, People, and Partners. As a general starting point, your business should explore the traditional four Ps. They provide a simple framework to work within, to maintain focus and organisation within your marketing strategy.
Try downloading Hubspot's marketing mix templates to get started.
Knowing your stuff when it comes to understanding your market will ultimately contribute to your business's growth. Reaching the right audience, with the right product, with the desired amount of resources and effort is extremely beneficial in the short term and for the longer-term goals for your business. In our next blog, we'll explore how to go about seeking investment for your startup.
In the meantime, we're here to help you set up a phone system for your startup, and can give you a local presence anywhere in the UK or internationally with virtual numbers. Talk to us today about our killer phone system features and powerful integrations.