Communicating effectively in real time with customers, colleagues and suppliers is crucial, in this blog we overview some of the tools that can be used to aid team communication and why simply plugging into your home broadband may not give you a seamless transition from your office.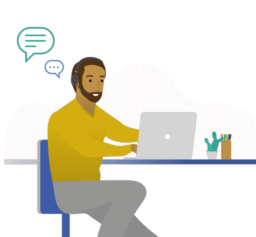 Is my home broadband prioritising the right traffic?
Network Settings for Voice Data
If you are using an app-based telecoms service or other cloud based telephony tools you want your calls to be the very best quality possible. The way you can achieve this is implementing Quality of Service (QoS) on your network.
If you are using app-based telecoms services configuring QoS on your network router ensures that your voice data is prioritised over other network traffic in your business.
This is vital to ensure that other activity happening on your network doesn't impact call quality and stability. When your network isn't stable this can cause information to get lost in transit which in turn means gaps in conversations, reduced call quality and even call drops.
If you are a CircleLoop customer our help document on Network Settings will assist you
* Please refer to your router's instruction manual when applying changes to settings and remember to always backup your current settings before making any changes. If you're not familiar with network management then please take advice from somebody who understands your network before applying any changes.
The Right Tools and Technology?
Working from home requires you to be technologically equipped to perform your job to a high standard. CircleLoop, for example, allows customers to use our powerful desktop and web applications as well as our for iOS® application. Call forwarding is also an option if you are an Android® user.
Alongside these tools Conference calling is also available; as is the ability to forward your office calls to your mobile device or to forward them to a colleague.
Analytics automatically logs and reports all call activity across your team wherever they are based; so whether you want to identify your most prolific users, most dialled numbers, missed call patterns or overall team performance you'll find everything you need to know in the CircleLoop Analytics panel.
Collaboration Features Include;
Set team numbers, voicemail and greetings.

Shared contacts to view all company contacts when using team numbers.

Easily arrange conference calls and transfer calls.

See all activities in the team activity feed.

Works with integrated tools like Slack and CRMs.
Slack allows a workforce to work in teams from anywhere via channels – organised spaces for everything related to a project, topic or team.
According to a recently published BBC article "Slack's advice for users forced into quarantine includes setting up an announcements channel that is read-only for most people but that administrators and managers can use to post important information."
Utilising a Telecoms Solution alongside Slack is a quick and simple way to send calls missed, calls received and voicemail notifications to a personal or team channel of your choice.
Our How to Use Slack Properly if You're a Newbie guide can assist you in getting started.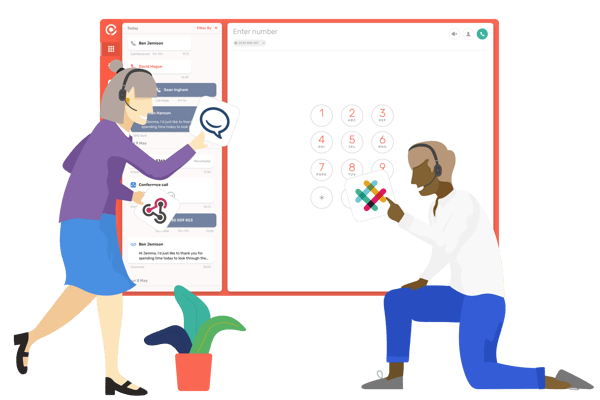 CRM's such as Hubspot and Zoho are designed with teams in mind and provide software for marketing, sales, and customer service all built in the cloud allowing employees the ability to share information seamlessly in real time and update marketing, sales and customer service pipelines in real time.
If you are willing to try your hand at video conferencing then the basic version of Zoom provides all the capabilities and features you need and its collaboration software is ideal for home working.
Microsoft Teams creates the perfect shared workplace. It allows you to work from anywhere and brings everything together, making for simple collaboration. Whether it's chatting with your colleagues or working with your favourite apps, Teams has the ability to let you access these features with no trouble at all.
Start video calls around the globe so that your business never has to stop.
About CircleLoop
Since 2016 we've been building the world's most powerful and flexible business phone system. CircleLoop runs in simple cloud-based apps rather than being reliant on cables, clunky hardware and complicated connections. It works with the tools you already use (including HubSpot, Zoho and Slack) and it's completely self-service with set up taking just a few minutes.