Many UK businesses will be starting to consider letting staff members work from home in the wake of the outbreak of Coronavirus.
A number of UK businesses have contacted us about using CircleLoop in the short to aid staff members when working from home.
In this blog we attempt to answer several of your questions and detailed support is available at support@circleloop.com or 03330 50 60 70
1. Can I use CircleLoop in the short term?
Yes
Sign Up to CircleLoop and our Customer Success Team will offer you a number of options to use your current numbers
Can I use Mirror Numbering (outbound calls only)
If you are the owner of a UK landline or mobile number this feature allows you to use CircleLoop instantly to make outbound calls from your current number via our CircleLoop application.
Can I use this feature for Inbound calls automatically?
No, as we are only mirroring your number in CircleLoop your inbound calls will ring on your current system.
Can I forward my Inbound calls to CircleLoop?
Yes. You can speak to your current provider and they can forward calls to a new live CircleLoop number of your choice, as far as your customers are concerned they still ring your current number.
2. Can I get a new Virtual Number and use CircleLoop instantly as my phone system?
Yes. All our accounts come with 1 number as standard (however this can be changed to a number of your choice). Simply download CircleLoop to your Desktop or Mobile and you can start to make and receive calls instantly from just £5.00 per month.
* Outbound call functionality is currently blocked on Android devices but our team can discuss call forwarding options with you.
3. I want to use CircleLoop as a short term option do you work to a minimum contract?
No. All our accounts are on rolling monthly basis; customers can stay with us for 1 month from £5.00 per month on PAYG or £15.00 per month on UNLIMITED
4. Do you offer a Free Trial?
7 Day Free Trials come as standard.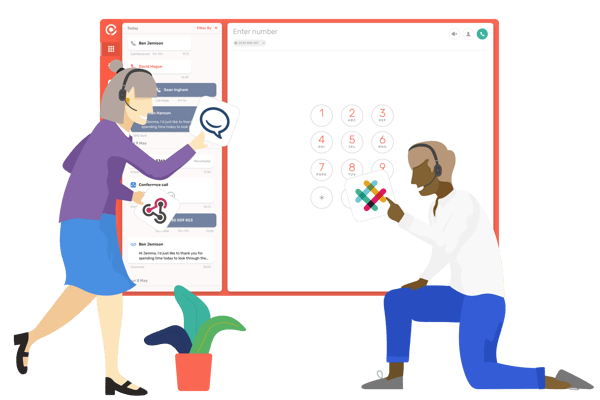 5. What Hardware Do I Require?
Our Desktop and Mobile Applications are used on your current devices however if you are using the Desktop Application we recommend using Jabra Headsets in order to achieve optimum sound settings.
6. What About My Home Broadband? Will I sound OK to clients?
Network Settings for Voice Data
If you are using an app-based telecoms service or other cloud based telephony tools you want your calls to be the very best quality possible. The way you can achieve this is implementing Quality of Service (QoS) on your home network.
If you are using app-based telecoms services configuring QoS on your network router ensures that your voice data is prioritised over other network traffic in your business.
This is vital to ensure that other activity happening on your network doesn't impact call quality and stability. When your network isn't stable this can cause information to get lost in transit which in turn means gaps in conversations, reduced call quality and even call drops.
If you are a CircleLoop customer our help document on Network Settings will assist you
* Please refer to your router's instruction manual when applying changes to settings and remember to always backup your current settings before making any changes. If you're not familiar with network management then please take advice from somebody who understands your network before applying any changes.
7. More Information
Tricks and tools for better working from home are available from Jessica Brown - Technology Business reporter at the BBC and from our blog Working From Home A Simple Guide
About CircleLoop
Since 2016 we've been building the world's most powerful and flexible business phone system. CircleLoop runs in simple cloud-based apps rather than being reliant on cables, clunky hardware and complicated connections. It works with the tools you already use (including HubSpot, Zoho and Slack) and it's completely self-service with set up taking just a few minutes.