Starting a new job can be difficult? Meeting new people, learning new systems and feeling part of the team. This becomes even more challenging when you become part of the team below but have never met them in person.
In our latest blog Chris Balding who started a role of Content Executive with CircleLoop during lockdown overviews starting a new job and the challenges faced against the backdrop of Covid-19. Chris also overviews our social initiatives and onboarding processes including how to have a virtual donut!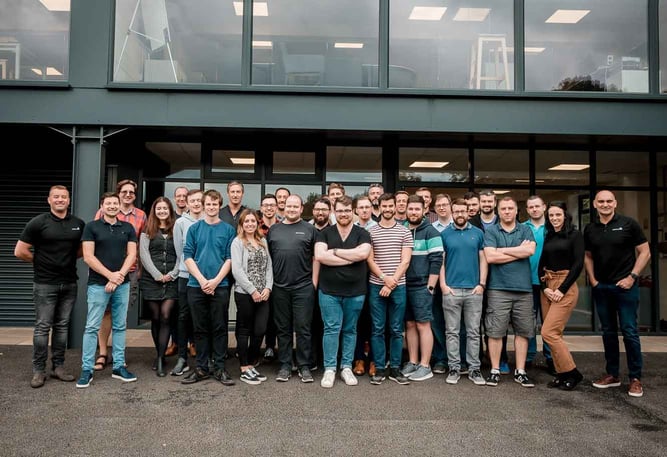 At Mission Labs (CircleLoop's parent company), we've had 7 new starters join the team in the picture above (myself included) during the Covid-19 pandemic. I've spoken with some of the new starters about their experience and how they have adapted in this turbulent time.
A Virtual Induction Process
First of all, I spoke with the Head of HR Catherine Rispin about the hiring and induction process finding out how it's changed.
Previously the Mission Labs induction process would consist of face to face chats with stakeholders and being introduced to the team over a coffee in the office. The onset of Covid-19 made the induction for new starters entirely virtual.
Catherine admitted that I was the first person Mission Labs had inducted remotely and before my first day I received all my equipment for work, a work laptop, stands, monitors and headset. The equipment was delivered to my house at a pre arranged time by Catherine meaning that my first interaction with HR was done from my front door with Catherine 2 metres away!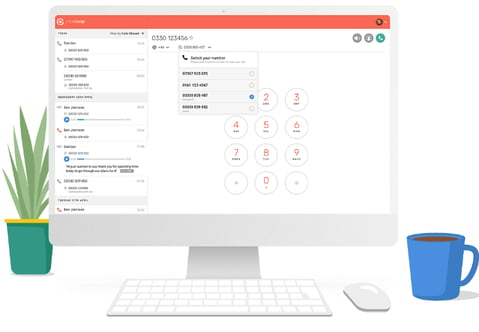 Meeting the Team via Slack
The induction Mission Labs put together was designed to keep me engaged, with tasks set during downtime to fully understand the CircleLoop product I would be working on and the processes that Dylan (our Operations Manager) had in place for the Customer Success Team I was joining.
I attended a video conference with the Customer Success Team so I could meet everyone and put faces to names. I was also tasked with the 'slack challenge' which required me to post a picture of myself and some interesting facts to help introduce myself to the wider team. I was also given a 'buddy' within the team to talk with me via Slack each day and I joined several of the company channels on Slack which included social elements such as posting your home working pictures.
Electronic Agreements
Most employers require new starters to sign various paperwork, Catherine explained how Mission Labs overcame this problem by switching to electronic agreements thus speeding up the process. Catherine now believes this is a process that will be introduced going forward for all new starters.
A Growing Company
Mission Labs have been lucky enough to expand during lockdown due to Cloud Communication tools being needed more than ever in the current climate, which has meant that recruitment has been accelerated to meet client demand.
Not being able to meet potential candidates face-to-face has presented some difficulties; for example not being able to evaluate body language and tone as easily as you can if you are in the same room. To attempt to overcome this Google Meet and Zoom were used instead as suitable alternatives.
Catherine goes on to explain that during the interview process it's not only the employers who are evaluating the candidate but also the other way round so to give the candidates a feel of the company she showed them pictures of the offices on our career page and explained the culture including some of the activities the everyone gets involved in which makes Mission Labs a great place to work.
A Donut, Hangout and Quiz
The Donut feature plug-in with Slack has been introduced (virtual coffee & doughnut) by Mission Labs.
Generating great feedback from the team already as it has enabled staff from different aspects of the company who wouldn't normally interact with each other to chat and talk about their hobbies and interests. Furthermore, there are a number of channels on Slack where staff can post pictures of their pets or talk about tech which will benefit the team when we return to the office.
Other technologies have also been utilised such as Google Hangouts and Zoom alongside our own cloud based phone system CircleLoop allowing our team to meet with potential clients and speak with new and existing users.
Mission Labs hold company-wide meetings twice a month to enable the directors and the management team to provide business updates. We have also been running a pub quiz hosted by various colleagues where having a social alcoholic or soft drink is encouraged (The Directors even kindly got us drinks delivered to our houses).
Staff Wellbeing
Mission Labs have introduced wellbeing initiatives focusing on ergonomics and giving advice on how to deal with working from home. All team members are encouraged to take up physical exercises such as a steps competition and Cycle2Work scheme (just cycle for now).
Advice From Our New Starters
Finally, I asked each of the new starters what advice they would give to someone starting a new job while working remotely they all gave similar advice, it may take longer to settle in but it is to be expected and if you are part of a good team then you know they will understand and give you the support you need and even though they are not sat next to you support is only a click away.