If you're in business, the chances are that at some point you'll need to arrange, or join a Conference Call. Generally, traditional business phone systems aren't set up to handle these sorts of calls, so you need to sign-up to a separate conferencing system to arrange this. And unfortunately this generates additional cost, hassle, more passwords to remember and software to install.
What is a Conference Call?
Conference calling is where a number of different people can be securely bridged into the same phone call using a dial-in number and PIN. It's very easy and simple to do and with CircleLoop, every user gets their own unique conference pin to allow group calling, meaning you can hold private meetings in a secure space for as long as required as call length is unlimited.
How to Set up A Free Conference Call
1. Create a CircleLoop account - if you haven't already, you'll need an account to access this feature. Conference calling is available on both pricing plans, and within the 7 day trial period. In your CircleLoop account you need to head to Settings, then click Conference Calling.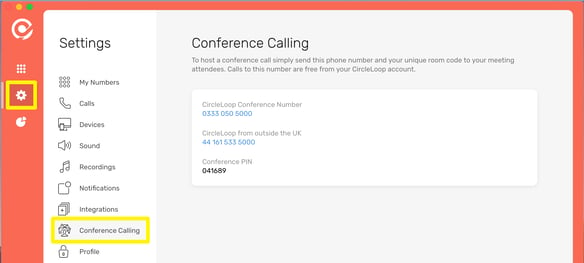 2. Share the meeting details with your clients or team - it's a good idea to send a calendar invite containing the information needed to access the conference call.
3. When it's time to join the call, simply use your dial-in number and enter the PIN - and there you go! Your meeting has started! For a step-by-step guide visit our Conference Calling help page.
What's more, our conference dial-in number is an 03-prefix number, which means it's free to call for all CircleLoop users, and costs no more than a local call for your other callers. Learn more about 03 numbers here.
International Conference Calling
International conference calling works in a similar way - for anyone dialling in from outside the UK, you'll need to give them the number as prompted in your account, along with your PIN (anyone dialling in from outside of the UK will be charged at the international rate set by their provider). Then, all you need to do is pick a time that suits all parties, wherever in the world they may be based!
How to use Call Recording on a Conference Call
Call recording is one of many powerful CircleLoop features - it's an unlimited feature that allows users to record business calls, listen back, download and share the files. And conference call recording is no different, it works in the same way. Just make sure that this feature has been enabled on your account and that all parties are aware that the call is being recorded.
How to Make a Conference Call on an iPhone
To host a conference call on an iPhone, download the CircleLoop app, login to your account and simply send the phone number and your unique room code to your meeting attendees. It works the same way as setting it up on a desktop computer. It's possible to record conference calls on an iPhone too.
How to Make a Conference Call on Android
Hosting a conference call on Android works in the same way as it would on an iPhone or desktop - download the CircleLoop app for Android, login to your account and send the details required.
Business Phones for Small Businesses
CircleLoop is a modern business phone system that is perfect for startups, small businesses and those businesses that are more established. Running in simple cloud-based apps rather than relying on hardware and clunky cables makes it a reliable and powerful business tool that will grow and scale as you do. It works with the tools you already use including Hubspot, Zoho and Office 365 and it's completely self-service with set up taking just a few minutes.
With two simple price plans at £5 Pay as You Go, and £15 Unlimited (per user, per month) you get unlimited UK calls, voicemail transcription, free conference calling and all of CircleLoop's great features.
Start your free trial today at circleloop.com