Any business that wants to run smoothly needs a bank of effective internal communication tools. Although emails are still important for communicating with teams and clients, it won't be long before they're in the same bracket as telegrams as newer and better tools are being released. There's not just one type of tool either, as creative businesses are opting for the phone, web chat and social media as methods to communicate instead. Here are the best internal communication tools you should consider investing in.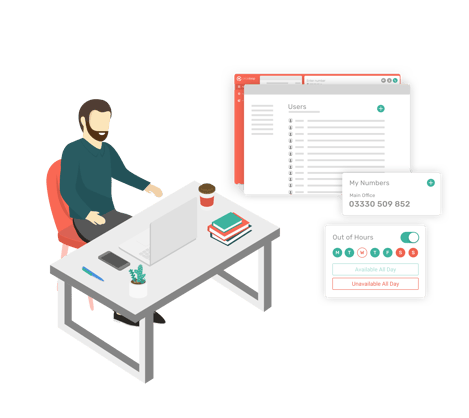 To learn more about each communication tool type, click on the categories below.
Instant Messaging Tools
These are real-time, online communication methods companies use to aid quick communication between one or more employees. It's a less formal approach that benefits efficiency.
The benefits of Instant messaging tools are:
- project efficiency, live chatting meaning queries or questions can be answered instantly, meaning projects and jobs can progress more quickly.
- maintaining connectivity between employees, which is especially important in today's remote working environment.
- availability, employees can send messages to those who are available to answer
- lead generation, many businesses are now utilising messaging tools to connect with their customers.
Slack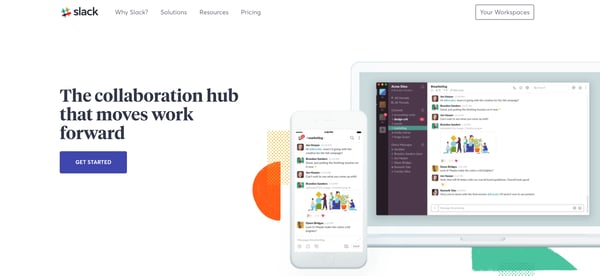 Image Credit: Slack
Slack is perhaps the most well-known internal communications tool out there right now and it says a lot considering NASA used it for their Mars Curiosity Rover Project.
Slack boasts an extensive list of tools, options and integrations which makes it great for all types of communication discussion. Although, it does miss some basic features such as a lack of a calendar, task management along with some other collaboration features.
Despite that, it's low-cost (but you have to pay for increased storage limits) and is designed to decrease email usage while increasing productivity. So, it's an effective tool to use with calling options available at paid tiers.
Flock
May not be as well known as Slack, but it's still a popular choice for businesses. It has all the usual features of tools of this kind - like status setting, message notifications, you can even put it in dark mode! Chat notifications are customisable, a user can prioritise chats that are most essential to their work. Like Slack, free and paid plans are available - we've compared important features in the table below:
| | | |
| --- | --- | --- |
| | Slack (free) | Flock (free) |
| Public channels | unlimited | 10 |
| Searchable messages | 10,000 | 10,000 |
| 1-1 & group messages | unlimited | unlimited |
| 1-1 Voice & Video calls | unlimited | 20 mins per call |
| Integrations | Up to 10 | unlimited |
Social Networking Tools
Social networking tools are great for businesses, they are essentially that but designed for businesses, so they're safe and secure. They're used to aid and encourage communication within the business on a more social level.
They are great for employee engagement and morale. Internal networks can help build and maintain working relationships between employees and teams, which in turn improves productivity.
Yammer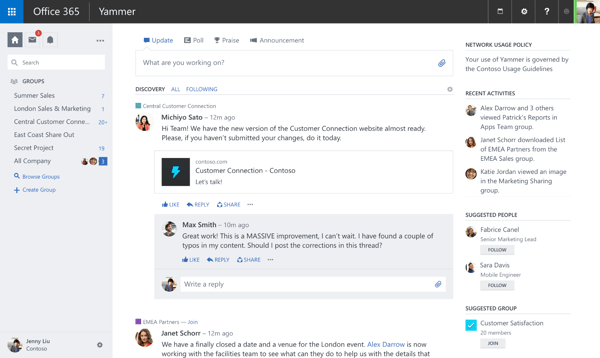 Image Credit: Microsoft
Yammer has been around for a decade now but it really increased in popularity once it was bought by Microsoft in 2012. This tool allows you to exchange messages and share files with other people in your company.
Your projects can be organised through conversations and this brings together all the people and data needed to complete a particular task. While it ticks the internal box, vendors and customers can also be looped into the conversations.
As it's now a Microsoft product, it means you need to have an Office 365 subscription so that it can be integrated with other Microsoft productivity apps, such as Word and Excel.
Workplace by Facebook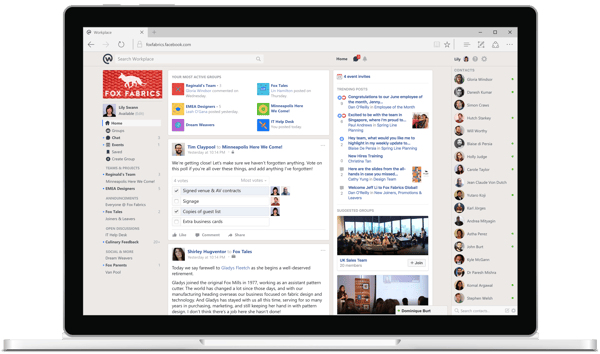 Image Credit: Workplace by Facebook
Don't worry, this tool won't see your inbox getting filled up with Candy Crush or Farmville requests. There's no real learning curve as it still has that familiar Facebook interface so it's easy to join, while text, audio and video chat are all supported.
It also has a work-focused version of Messenger called Workchat. Here, you can send text messages, make voice and video calls while you can also post company-wide updates on the platform for the rest of your team to see.
However, it's doesn't really encourage brief interactions and lacks the option to add work-specific tools. While it's great to have a private business social network to bring your internal team together, it doesn't add much value in terms of productivity.
Video Chat Tools
'You're on mute!' - probably one of the most used phrases when using video chat. Again, due to the pandemic the need for video calls and chat has increased dramatically. The chat function enables users to input during a call without interrupting the person speaking. This function is particularly handy when video calls have large numbers of participants, making it easy for users to ask questions, and have them answered without it being an open forum.
Microsoft Teams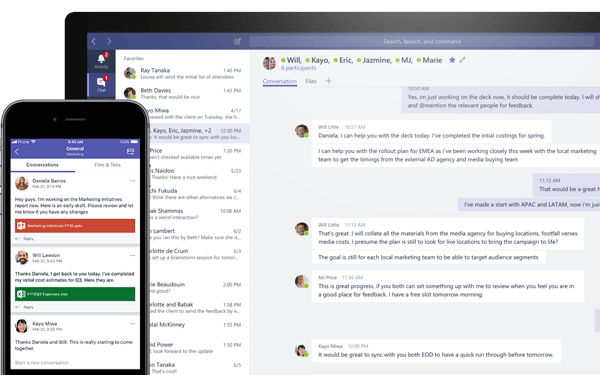 Image credit: Microsoft Teams
Microsoft Teams creates the perfect shared workplace. It allows you to work from anywhere and brings everything together, making for simple collaboration. Whether it's chatting with your colleagues or working with your favourite apps, Teams has the ability to let you access these features with no trouble at all.
It doesn't matter what device you want to use it on either. Teams understands that you can't be sat behind a PC or laptop 24/7, so why not download the app and connect on the go? Start video calls around the globe so that your business never has to stop.
Zoom
The video communication tool that took over the world in 2020! It's used by the masses - by businesses to host meetings with colleagues and clients, by teachers to teach children whilst schools are closed. It hosts many virtual pub quizzes too! It's very easy to use, and has high quality video and audio. It also has chat and screen sharing features too, making remote collaboration possible.
The basic version is free of charge, you are limited to 40min per video call though. But, if you don't mind logging back in, it's not too bad at all.
Project Management Tools
Project management tools have long been utilised by businesses to enable and maintain efficiency between teams and individuals working on projects simultaneously. Tools like this enable you to plan and assign work, add tasks, projects and set deadlines whilst keeping track of your teams productivity.
Monday
Describes itself as the visual platform manages everything - they're not wrong. It's visually appealing, intuitive and can manage workflows for just about anything. Status buttons indicate where your team's progress for each task. The platform is fully responsive too, which is great for keeping track when you're on the go.
Although it doesn't have chat functionality, you are able to integrate with instant messaging tools such as Slack. You can try Monday for free for a limited period of time, after this you'd need to upgrade to a paid plan.
Wrike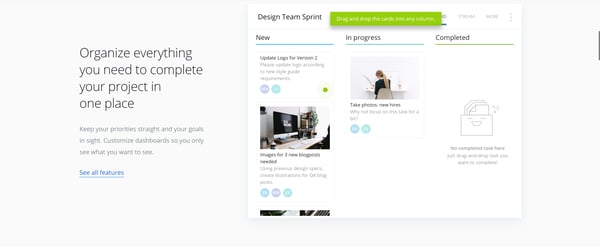 Image Credit: Wrike
Another highly appreciated tool for internal communication within businesses is Wrike. It has plenty of features with a quick set-up process to ensure speedy communication within teams.
There are plenty of customisable options with the dashboard while time tracking and project control is also possible in Wrike. However, the user interface is down the line and behind the competition but perhaps the biggest disadvantage is that Wrike lacks a chat option.
What this means is that this missing feature makes this internal communications tool fall behind.
Cloud-based Telephony tools
Every business needs a phone system, but choosing the right one for you can take time. Increasingly, businesses are using modern cloud-based phone systems because they recognise the need for flexibility and adaptability. Cloud-based phones systems are a great alternative to traditional, expensive telephony systems. Not only because they are cost-effective, but because they can be accessed anywhere
CircleLoop: A Better Cloud-Based Phone System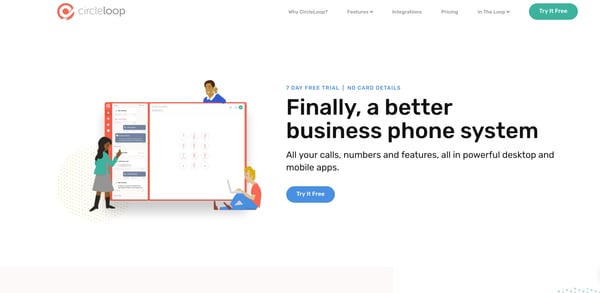 Image Credit: CircleLoop
CircleLoop brings your entire phone system together - both internally and externally - in powerful desktop and mobile apps. It brings all of your team together and it doesn't matter where they're working. Plus, it's really simple to set up so that means not only do you not have to wait for engineers, but it also helps you to get more work done.
With internal teams, collaboration is key and that's where CircleLoop excels. You can easily set up virtual numbers for your teams and transfer calls within your business. You can arrange team and client conference calls, each user has a conference dial-in number and room code included in their subscription. Unlimited call recording is also included, meaning you can record your business calls, review, share and download the files.
Plus, you can integrate CircleLoop with popular team chat tools like Slack. So, you don't need to use two separate systems as we provide it in one. Pricing is simple and competitive too, offering a Pay As you Go plan at £5 per month, and an Unlimited plan at £15 per month.
Aircall
Is another great cloud-based telephone system for modern businesses. It can be used to run a call centre, handle support requests, and manage workflows. Aircall also integrates with many popular CRMs and helpdesk tools.
Like CircleLoop, they offer a free trial. We've compared the Aircall's basic plan, with CircleLoops, Unlimited plan in the table below:
| | | |
| --- | --- | --- |
| | CircleLoop Unlimited | Aircall Essentials |
| Pricing | unlimited | 10 |
| Inbound & outbound international calling | included and unlimited | At additional cost |
| Min user requirement | no | 3 user minimum |
| Access to all features | yes | no |
| UK based customer support | yes | no |