Any business that wants to run smoothly needs a bank of effective internal communication tools. Although emails are still important for communicating with teams and clients, it won't be long before they're in the same bracket as telegrams as newer and better tools are being released. There's not just one type of tool either, as creative businesses are opting for the phone, web chat and social media as methods to communicate instead. Here are the best internal communication tools you should consider investing in.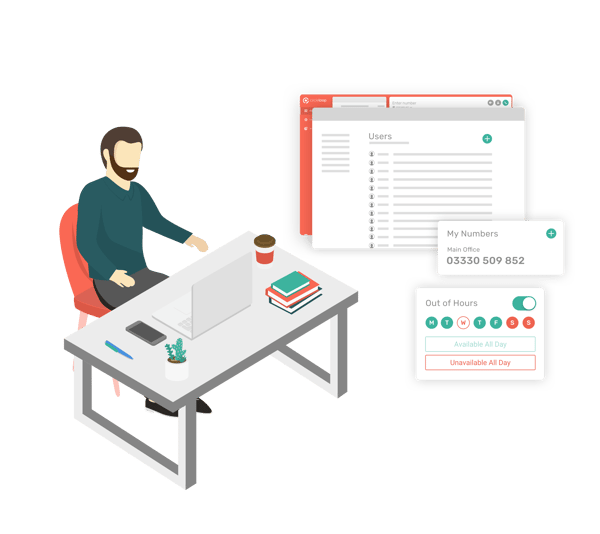 To learn more about each communications tool, click on the headings below.
Slack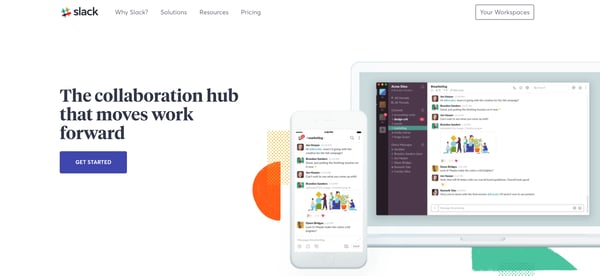 Image Credit: Slack
Slack is perhaps the most well-known internal communications tool out there right now and it says a lot considering NASA used it for their Mars Curiosity Rover Project.
Slack boasts an extensive list of tools, options and integrations which makes it great for all types of communication discussion. Although, it does miss some basic features such as a lack of a calendar, task management along with some other collaboration features.
Despite that, it's low-cost (but you have to pay for increased storage limits) and is designed to decrease email usage while increasing productivity. So, it's an effective tool to use with calling options available at paid tiers.
Allo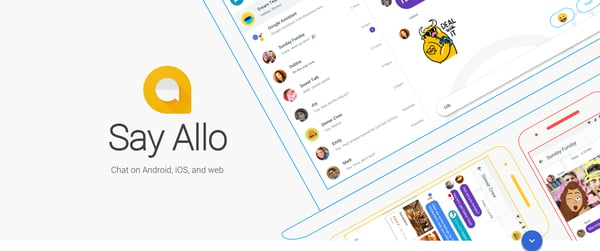 Image Credit: Allo
After phasing out Google Talk, the search engine giants released Allo as their new messaging app.
What makes this tool different to others is that Allo uses machine learning and natural language processing so that it can suggest replies on the fly. Basically, it tries to anticipate what you want to say next and how you might say it.
This can take a while, though. The more you use Allo, the better your suggestions become but that doesn't mean it's always going to be 100 percent accurate. This unique take isn't integrated with other existing Google messengers, but does have an excellent interface and is relatively easy to set up and use.
Yammer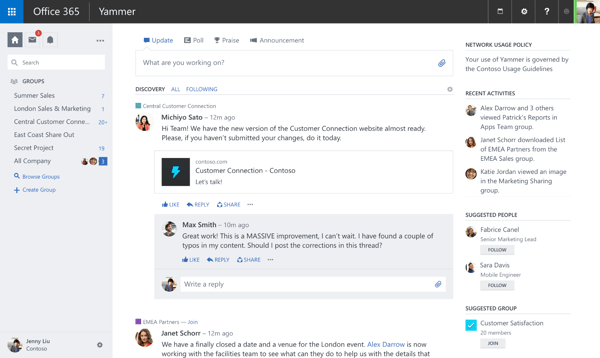 Image Credit: Microsoft
Yammer has been around for a decade now but it really increased in popularity once it was bought by Microsoft in 2012. This tool allows you to exchange messages and share files with other people in your company.
Your projects can be organised through conversations and this brings together all the people and data needed to complete a particular task. While it ticks the internal box, vendors and customers can also be looped into the conversations.
As it's now a Microsoft product, it means you need to have an Office 365 subscription so that it can be integrated with other Microsoft productivity apps, such as Word and Excel.
Workplace by Facebook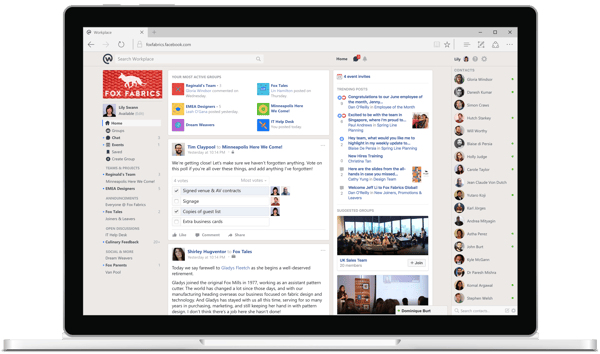 Image Credit: Workplace by Facebook
Don't worry, this tool won't see your inbox getting filled up with Candy Crush or Farmville requests. There's no real learning curve as it still has that familiar Facebook interface so it's easy to join, while text, audio and video chat are all supported.
It also has a work-focused version of Messenger called Workchat. Here, you can send text messages, make voice and video calls while you can also post company-wide updates on the platform for the rest of your team to see.
However, it's doesn't really encourage brief interactions and lacks the option to add work-specific tools. While it's great to have a private business social network to bring your internal team together, it doesn't add much value in terms of productivity.
Microsoft Teams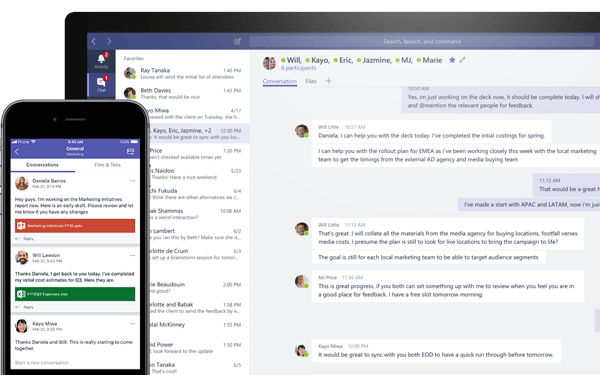 Image credit: Microsoft Teams
Microsoft Teams creates the perfect shared workplace. It allows you to work from anywhere and brings everything together, making for simple collaboration. Whether it's chatting with your colleagues or working with your favourite apps, Teams has the ability to let you access these features with no trouble at all.
It doesn't matter what device you want to use it on either. Teams understands that you can't be sat behind a PC or laptop 24/7, so why not download the app and connect on the go? Start video calls around the globe so that your business never has to stop.
Wrike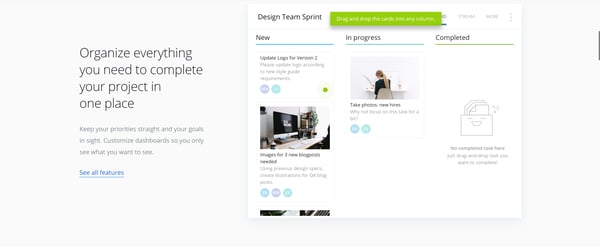 Image Credit: Wrike
Another highly appreciated tool for internal communication within businesses is Wrike. It has plenty of features with a quick set-up process to ensure speedy communication within teams.
There are plenty of customisable options with the dashboard while time tracking and project control is also possible in Wrike. However, the user interface is down the line and behind the competition but perhaps the biggest disadvantage is that Wrike lacks a chat option.
What this means is that this missing feature makes this internal communications tool fall behind.
CircleLoop: A Better Cloud-Based Phone System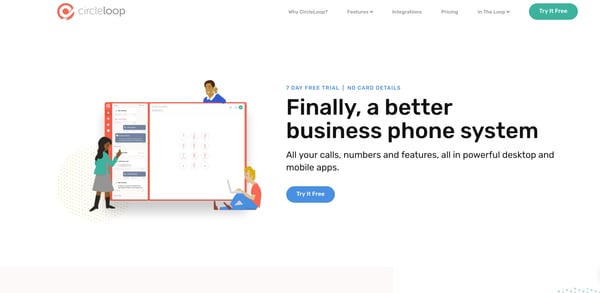 Image Credit: CircleLoop
Although the tools we've mentioned above can suit businesses, we're providing a business phone system, but not as you know it.
CircleLoop brings your entire phone system together - both internally and externally - in powerful desktop and mobile apps. It brings all of your team together and it doesn't matter where they're working. Plus, it's really simple to set up so that means not only do you not have to wait for engineers, but it also helps you to get more work done.
With internal teams, collaboration is key and that's where CircleLoop excels. You can easily set up shared numbers for your teams and transfer calls within your business. Plus, you can integrate CircleLoop with popular team chat tools like Slack. So, you don't need to use two separate systems as we provide it in one.
Some other benefits of CircleLoop to make it the perfect internal communication tool include:


User Features
UK and International numbers in minutes.

Set personalised voicemails and convert them into text messages.

Call transfers, backup numbers and ability to use with hardware.

Set business hours, see a live activity feed and set smart notifications.

Sync devices, forward calls and synchronise contacts.

Send and receive text messages and record your calls.


Collaboration Features
Set team numbers, voicemail and greetings.

Shared contacts to view all company contacts when using team numbers.

Easily arrange conference calls and transfer calls.

See all activities in the team activity feed.

Works with integrated tools like Slack and CRMs.


Admin Features
You can add and remove users.

You can add and remove numbers.

You can create team numbers.

You control subscription and payment settings.

You can set caller greetings and team extensions.


How CircleLoop Can Help
Anywhere Business Telephony
With CircleLoop, you can finally wave goodbye to multiple business landlines and mobile phones.


Flexibility
You get the flexibility you need and want. It helps to manage your team, contact number and preferences to the tiniest of details.



Productivity
Even if team members and employees aren't at their desk or have no internet, CircleLoop provides notifications through the right means to stay productive on the go.


Collaborative Platform
Creating team numbers that anyone can receive calls from helps to bring your entire team together and no customer will ever fall through the cracks.


Cleaner Environment
CircleLoop also gets rid of those clunky telephones taking up valuable space on your desk. Instead, you replace it with a headset that doesn't take up much space.


Integration
With CircleLoop, you can connect to your existing applications so you don't need to unsubscribe or get rid of other tools. Software like HipChat and Slack can be integrated to consolidate communications instead while integration with HubSpot helps with inbound marketing efforts.
By starting your free trial and installing the easy to use platform, you're opening the door for more flexibility, collaboration and communication within your team.
Improve Your Company Communication
Not having an internal communications platform in place can harm your business in the long run. So, it's a good thing that you're able to use and integrate so many tools with CircleLoop to make the most out of internal and external communications.
If you want more information on how you can improve your communication, download our free eBook below which is packed full of tips to help you make the make the most of your comms.