The idea people have of a normal office environment is of desk phones, headsets, cables and dated features. However, you can't have your business's reputation and customer service hanging by wires and or pinned to a fixed location. When so many businesses are operating from remote offices, more options than ever are available to help companies achieve their daily communications goals.
A practical and reliable method of communication is a critical factor in any successful business. In today's customer-centric market, your clients aren't interested in how you make or receive calls, rather they care about how long it takes them to reach you and how their query was handled. Regardless, many businesses hesitate to think beyond traditional on-premises private branch exchange (PBX) cabled into their office premises. Cloud-based phone systems, also known as Voice over Internet Protocol (VoIP) or internet calling, have become very popular with the ubiquity of cloud accessibility across all aspects of a business.
The limits of traditional on-premise PBX phone systems
(PBX) is the telephone network companies use to route calls to departments and phone extensions. Traditionally, the office premises house the system itself. This is how most people would be familiar with the setup, and as such are also familiar with its shortcomings which include but are not limited to;
Tedious systems and equipment

Dedicated storage room

Regular repairs and maintenance
Previously, only large businesses had the means to install and manage this kind of setup for their office phones which changed after the creation of cloud technology.
Cloud phone systems explained
A cloud-based phone system is a company communications solution hosted and maintained in the provider's data centres offered to customers 'in the cloud' —not at your office—and delivered through your internet connection. It has similar, if not better features than a hosted PBX capability to facilitate calls over the internet, which has the same routing and features of a traditional PBX using voice over IP. It also has other capabilities that standard office phone systems can't or don't offer at affordable prices, like a long-distance call or providing business phone numbers in different locations across the country. This cloud solution is often provided as a service so that smaller businesses can subscribe to it.
Cloud-hosted PBX vs traditional PBX: What's the difference?
Business professionals from all industries agree that a company's phone system is a powerful force driving increased productivity, improved communication, and more significant sales opportunities.
60% of companies say that phone systems and live agents are their most urgent investment priorities. One missed call means one missed opportunity, loss of loyalty and ultimately customer satisfaction.
When remote teams have become the standard, holding onto traditional on-site PBX systems
doesn't make sound business sense. Both cloud PBX and traditional systems deliver the same results, and they allow your team members to stay connected with your clients wherever they may
be located. The former offers far greater flexibility. Your teams can get more work done in a shorter time and go on about their day without thinking about missing important calls when out of the office.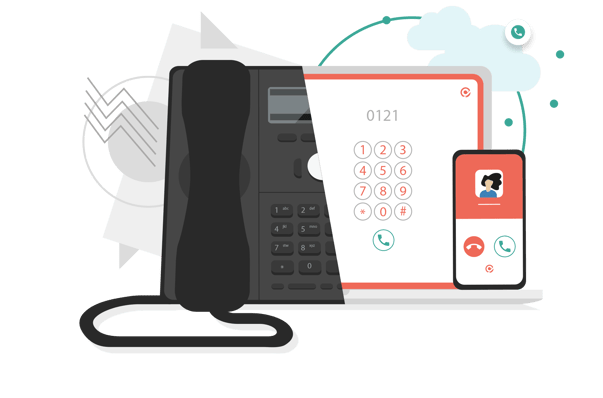 Cloud-based telephone systems vs traditional on-premise phone systems
| | |
| --- | --- |
| Cloud-based phone system | Traditional on-premise phone systems |
| No expensive, bulky hardware that requires a dedicated room | Expensive up-front costs for bulky on-site hardware |
| Quick setup and installation | Expensive and complex cable network implementation |
| Works with desk computers, IP phones, and mobile devices | Limited to the physical office location |
| No cables necessary to install; uses virtual phone extensions | New extensions need new cabling and installation |
| Updates are automatically rolled out to all subscribers | Service and hardware upgrades require additional fees |
| It does not need maintenance from dedicated personnel | Specially trained workforce needed for maintenance |
| Changes to the account can be instantly done | Drawn out implementation of service change requests |
Cloud-based telephone system: Features
Analogue phones can be somewhat limited in their features, while cloud-based phone systems can add and update features as they become available. These are some of the features that can help small business owners stay connected with their customers efficiently.
1. Unified communications: A unified communications solution combines your business phone system, instant message or chat, voicemail, video conferencing and faxing, and integrates with email, social media, web apps, and tools like a CRM.
What does this mean for your business? All the benefits that were enjoyed with PBX are still available on this system with no need for additional training.
2. Audio conferencing: As remote work becomes normal, businesses need reliable and easy-to-access conferencing solutions. Many cloud-based phone systems offer conferencing as part of their packages.

What does this mean for your business? Your business doesn't have to pay extra for it as an add-on feature.

3. International calling: Cloud phones are internet-based and generally, international and long-distance calling is included as additional features in most cloud phone packages.
What does this mean for your business? You won't incur high long-distance charges when placing or receiving international calls.
4. Cross-device capability: This feature enables users to place or receive calls on several devices from the same number. You can also transfer calls between devices.
What does this mean for your business? When the work number is called with this feature, both the user's smartphone and desk will ring, and the user can pick which one to answer, enabling efficiency and improving business operations.
5. Artificial intelligence: AI permeates almost every aspect of modern life; cloud phones are no exception. Cloud system providers use AI to offer customer service and perform functions like sentiment analysis and speech-to-text.
What does this mean for your business? This will assist in seamless communication and help alleviate the workload that comes from transcribing and organising call logs.
6. Instant messaging: Instant messaging, specifically SMS, is a text-based form of communication. This form allows for real-time communication that can be run through several devices, including desktop computers and smartphones.
What does this mean for your business? Instant messaging adds another layer of communication that is very responsive and leaves information in writing that can be later referenced by your teams.
7. Cloud communication: Cloud communication refers to the entire bundle of communication services. It includes instant messaging, video conferencing, and any other communication form included in the bundle.
What does this mean for your business? Your business gets to enjoy a full-service bouquet with a wide variety of communication channels to choose from.
8. Auto-attendant: An auto attendant is the automated voice menu that you often use in business calls.
What does this mean for your business? Automated directories direct calls and reduced the communication workload of persons in the business.
9. Call forwarding: Call forwarding takes calls to one specific number and redirects those calls to another line.
What does this mean for your business? The service allows team members to consolidate calls to a single line, even when it is necessary to direct calls through specific phone numbers. Cloud-based call forwarding works similarly to traditional call forwarding.
10. Collaboration: Collaboration tools through audio conferencing tools
What does this mean for your business? These tools help team members work efficiently, saving time and resources without the need to be in the same room or country.
11. Software integrations: Cloud-based phone integrations allow many resources to be put into a single suite or cloud package. The same service provider that can also handle voice calls allows for large-scale data storage and analytics.
What does this mean for your business? By combining services through integrated platforms, powerful tools are made easy and accessible to users.
12. Voicemail-to-email: Voicemail-to-email transcribes a voicemail and sends it as an audio file to an email address. This system allows the recipient to access their voicemail without using a voice mailbox.
What does this mean for your business? The emailed file is accessible with a broader range of devices and typically will not clog or exceed data limitations, allowing the recipient to revisit the voicemail for as long as necessary.
Cloud: a solution that works in any industry
Companies across the globe are moving their phone systems to the cloud, 61% of businesses migrated their workloads to the cloud in 2020, because of its ability to adapt to each industry's communications needs. The system's ability to serve and connect multiple locations via a single solution provides flexible options for companies that need to manage their business in unique ways.
CircleLoop has enterprise-level features that can match any modern corporate phone system in the market:
No contracts or setup fees

Reliable service that you can pay for monthly
We offer an unlimited yearly package for £15 plus vat that includes 1 UK Number, all CircleLoop features (including call recording, conference calling & voicemail-to-text), unlimited inbound calls, unlimited outbound calls and international calls from 3p/min.
If you are interested in a pay as you go monthly payment plan, that will cost £5 plus VAT, including all the above-mentioned services.
Experience the benefits of a cloud-based phone system for your business, view our cloud phone system packages and pricing.