As the UK Government starts the complex process of getting UK office workers to return to the workplace, research from the CIPD shows 'that the proportion of people working from home on a regular basis once the crisis is over will increase to 37% compared to 18% before the pandemic.'
The UK has now been dealing with the effects of Covid-19 for over 6 months. With no end in sight and winter around the corner, we have seen how attitudes are changing towards working from home. Many businesses are realising the potential benefits of allowing employees to work remotely with some companies already announcing plans to make remote work a permanent option, even after the pandemic.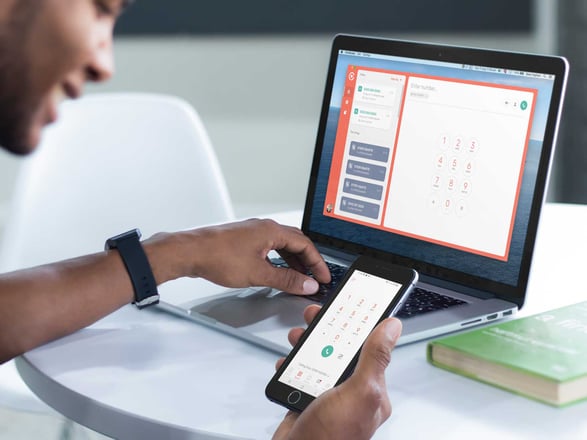 Further figures from the same research show that 'employers also expect the proportion of staff who work from home all the time to rise to 22% post pandemic compared to 9% before lockdown measures started to be imposed'.
Why the shift to cloud based phone systems??
Before the lockdown, many of us were already using business cloud tools such as Slack, Dropbox or Google Drive and CRM tools such as Hubspot for both internal communication and collaborating on tasks driven by a "cloud first" philosophy.
But, a changing world has accelerated many of our digital transformation plans; traditionally, people had the comfort blanket of using office tools such as deskphones alongside whiteboard sessions and face to face meetings.
Now, cloud technology is being utilised as a necessity rather than a nice to have. Zoom calls and screen shares have seemingly replaced traditional office meetings. These cloud communication tools allow for remote collaboration, team management and even company wide meetings.
Instead of adopting a cloud based approach for a select few of our office functions, businesses are now understanding how it could be used for all office functions.
Futureproof your business with a professional cloud phone system
CircleLoop is a Cloud telecoms provider and software-based technology that allows users to make calls using their internet connection instead of a traditional phone line. Unlike a traditional phone system, CircleLoop offers flexibility and amazing features as standard.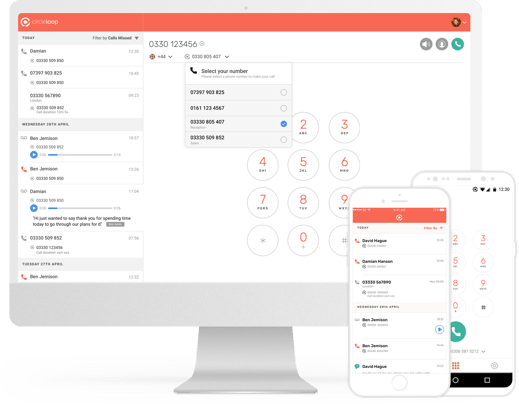 CircleLoop has everything you'd expect from a business phone system. But, by utilising the power of the cloud and our in-house technology, users can also expect to benefit from
Setup of CircleLoop is instant and scalable which means you add users as your business grows and you'll also get access to a wide range of business phone numbers to meet your needs.
CircleLoop sounds great but do I really need another cloud communication tool alongside Slack and Zoom?
The CIPD's survey found that many employers are already getting ready for a more flexible future:
44% of employers said that they are putting in place additional measures or spend to support home working. Of these, 66% plan to change their policies to enable more home working and 46% plan more line management training in managing and supporting home workers
33% of employers plan to introduce new forms of flexible working or try and increase the uptake of existing flexible working arrangements, including working from home on a regular basis (70%), always working from home (45%), part-time hours (40%), flexi-time (39%), term-time working (16%) and compressed
The majority of UK companies still look to use traditional phone numbers as a communication method for customers (alongside email, social media and new technology such as chatbots) at times nothing beats speaking with a customer and or a business you are buying a product from.
CircleLoop offers virtual numbers which can be national, local or international giving your business an instant presence in over 50 countries in the world.
Employers want the ability to have staff who can work from anywhere and collaborate with colleagues as easily as they would in person, desktop and mobile applications aligned with a team and menu structure enable that in the cloud; thus taking away the need for hardware.
Cloud based telecoms also easily allows employees to set out of office hours (for part time workers) and call forwarding - to cover for example term time only workers.
Enabling desk phones for people at home or in multiple locations can be a difficult task for any company alongside the need to upgrade/fix these devices over time, cloud telecoms simply means users download the latest version of an application rather than replacing hardware.
CircleLoop works best as part of your existing Cloud suite.
At CircleLoop our internal teams use Slack and Zoom for face to face video based collaborative chats.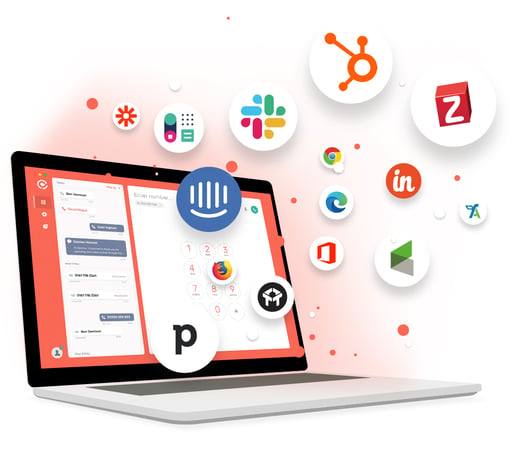 However,CircleLoop plays an important role in that cloud setup by offering our customers a phone number to call in multiple locations.
CircleLoop customers also have the ability to use our 25+ integration's which allow users access to amazing features such as Contact Sync (automatically sync your contact data into CircleLoop), Enhanced Inbound Caller ID (If a contact is in your CRM, you'll see full contact details and tags on the inbound call) and our Native Dialler (we've worked in partnership with HubSpot and Zoho to place your CircleLoop dialler directly inside your CRM)
A professional business phone number in the Cloud but with all the features of a traditional phone system.
CircleLoop is available from just £5.00 per month (inclusive of a virtual number) on a non - contact basis, many other providers in the space will require you to take out a 12 month contract and then buy as add-ons calling plans and phone numbers plus in many cases cloud call recording and other standard CircleLoop features.