Choosing a phone system in 2018 can prove to be a tricky decision. There've never been more options on the market that are all effective in their own ways than there are today. It can be difficult to know where to start. Why not just use your smartphones? Or perhaps have a landline installed? Or even opt for a cloud-based phone system? Or use VOIP, whatever that is? (It's just an internet based phone line, by the way.)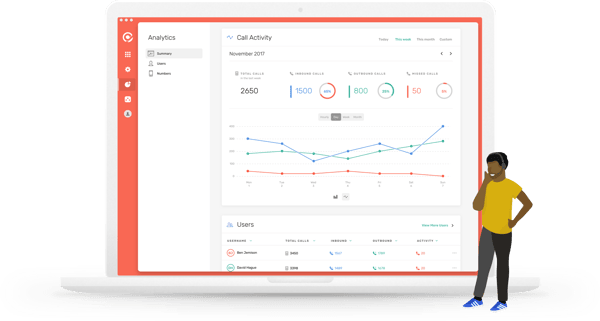 This post will outline the benefits of each and give our judgement on the best telephone systems for small businesses.
We'll cover:
What are the Benefits of Having a Landline?

What are the Benefits of Cloud-Based Systems?

You Could Just Use Apps on Smartphones

Our Verdict
What are the Benefits of Having a Landline?
Landlines are a staple of the majority of offices. A lot of business still use landlines to make and receive calls due to the sheer reliability and the fact that they've used them over the last few decades. As opposed to a cloud-based or mobile phone signal, a disruption in the service of your landline is far less likely. Therefore, keeping your business up and running at all times.
Scalability is another area where landlines are beneficial. Separating personal and business calls is made much easier when a landline is installed. Not only this, it makes it easier to keep track of your business phone expense when the bill arrives at the end of the month.
What are the Benefits of Cloud-Based Systems?
It's wrongly assumed that cloud-based phone systems are only beneficial to larger organisations. They, in fact, have many features that small businesses can take advantage of too.
In previous years, cloud-based systems have come under scrutiny for their call quality. However, as technology has evolved, the quality of cloud-based systems has actually surpassed more traditional methods and is now crystal clear.
As long as you have internet access, you can use your cloud-based phone system anywhere. Cloud-based systems allow you to make and receive calls from multiple devices, including your smartphone, in multiple locations, ensuring that you're always contactable by customers and prospects. Whether this is always a good thing is for you to decide, of course. But this is brilliant for remote working and means that productivity levels will never drop when you have to visit clients or attend meetings with suppliers.
The operating costs for a cloud-based phone system are significantly cheaper than the more traditional methods. As your number isn't connected to a physical telephone landline it cuts down the cost of hardware and line rentals, as well as domestic and international calls. As it's portable, your employees no longer need a company mobile as they can access the system on their own smartphone or work's laptop.
You Could Just Use Apps on Smartphones
Faster speeds, strong devices and online work becoming more and more popular, means that working from our own smartphones is now a reality for many employees. Hardware, software and networking advances allow professionals and remote workers to stay in contact and get more work done whilst on the go. Sounds great, right?
However, mobile devices have proven to have a knock on effect with productivity. Whilst they're great for accessibility, smartphones can prove to be an easy distraction thanks to games and social media. Not only this, accessing work on a personal phone can cause security issues.
It's not all bad though, several office staples have smartphone versions of their apps, including Office 365, Google Docs and instant messaging collaboration tools like Slack. This allows you to work on the go thanks to being cloud-based.
Our Verdict
As technology evolves, your phone system should too. You should look to place yourself in the best position for further technological advancements. That's why we believe that cloud-based phone systems are the way forward for small businesses. Not only will you be saving money on domestic and international call rates, and hardware and equipment too, you'll be opening new avenues for productivity by promoting working remotely and on-the-go.
Cloud-based systems are easily accessible and are user friendly, so your workforce won't struggle when trying to navigate the apps on their smartphones or desktop. And the quality of the phone call is second to none, so say goodbye to dodgy signal and bad lines.
How Can Circle Loop Help?
Communication is a key pillar of establishing and maintaining your business' culture. Therefore, you can't afford for it to be scuppered in any way. Cloud-based systems are brilliant for internal and external communication between your employees and your clients too.
As you've read in the above verdict, cloud-based phone systems help you reduce your costs, offer better communication channels to your clients and employees and leave you in the best position to adapt to change.
For further reading, download our all in one free guide to help you choose the right cloud based phone system.