Choosing a phone system in 2021 for your small business can prove to be a tricky decision - there have never been more options on the market that are all effective in their own ways than there are today.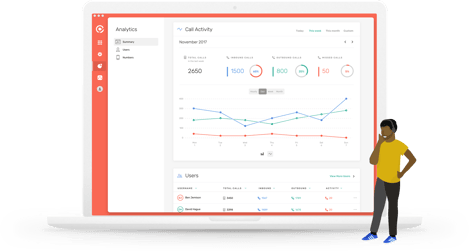 It can be difficult to know where to start, especially in these unsettled times. Business needs have evolved very quickly during 2020/21, with an emphasis on flexibility and functionality for remote or hybrid working.
Some businesses might decide to just use their personal smartphone for business calls. Or perhaps have a landline installed, or opt for a cloud-based phone system. Or use VoIP, whatever that is? (It's just an internet-based phone line, by the way - we've got a whole page dedicated to explaining what VoIP is if you'd like to learn more).
This blog will outline the benefits of each option and we'll give our judgement on the best telephone systems for small businesses.
What are the Benefits of Having a Landline?
Traditional landlines have long been a staple for the majority of offices. And, even today, a lot of businesses still use landlines to make and receive calls due to their reliability and the fact they've used them over the last few decades.
Scalability is another area where landlines are beneficial, however adding additional hardware each time someone joins the company can be costly. Separating personal and business calls is made much easier when a landline is installed. Not only that, it's easier to keep track of your business phone expenses when the bill arrives at the end of the month.
However, with the ISDN and PSTN switch off planned for 2025 (not that far away!), a traditional business landline isn't a future-proof option. (Read more about the switch off here.) In addition, the lockdown restrictions that came into force in 2020 have further highlighted the limitations of traditional business landlines. They're generally fixed and immovable, so when working from home was required, many businesses found themselves without a phone system that could meet their needs.
What are the Benefits of Cloud-Based Systems?
Cloud-based or VoIP phone systems can have hugely positive benefits for startups, growing businesses, and more established businesses.
As long as you have internet access, you can use your cloud-based phone system anywhere. Cloud-based systems allow you to make and receive calls from multiple devices, including your smartphone, in multiple locations, ensuring that you're always contactable by customers and prospects, or team members. Whether this is always a good thing is for you to decide, of course. But it is brilliant for remote working and means that productivity levels will never drop when you have to visit clients or attend meetings with suppliers.
The operating costs for a cloud-based phone system are significantly cheaper than the more traditional methods. Because virtual numbers aren't connected to a physical telephone landline the cost of hardware and line rentals are reduced, as well as domestic and international call charges.
Cloud-based phone systems like CircleLoop have many powerful features which businesses can leverage to improve all aspects of their business, from virtual and international numbers, cloud call recording, and conference calling to call analytics which provide insight into your team and their calling effectiveness. These cloud-based phone systems can integrate with your whole suite of tools too. CircleLoop has over 30 integrations that can help save time, increase productivity and make your investments work harder.
The Best Phone System for Small Businesses - Our Verdict
As technology evolves, your phone system should too, so you should look to place yourself in the best position for further technological advancements. That's why we believe cloud-based phone systems for small businesses are the way forward. Not only will you be saving money on domestic and international call rates, and hardware and equipment costs too, you'll be making sure productivity is maintained with remote and hybrid working.
Cloud-based systems are easily accessible and are user-friendly, so your workforce won't struggle when trying to navigate the apps on their smartphones or desktop.
How Can CircleLoop Help?
Communication is a key pillar of establishing and maintaining business culture, so you can't afford for it to be compromised in any way. Consequently, cloud-based systems are brilliant for both internal and external communication between your employees and your clients.
As you've read in the above verdict, cloud-based phone systems help you reduce your costs, offer better communication channels to your clients and employees and put you in the best position to adapt to change.
For further reading, download our all-in-one free guide to help you choose the right cloud-based phone system.