Financial Services is one of the UK economy's most important and influential sectors. Business variety is huge - from one-person mortgage or investment advisors to small businesses and large multinational firms.
It's an industry sector that faces not only externals threats, such as online fraud and scams, banking trojans and card-not-present payments, but also challenges to always be 100% compliant with changing regulations, or face the prospect of severe penalties if data security is breached.
At CircleLoop, we've created the best VoIP phone system for the Financial Services sector - one that is data secure and reliable, regardless of business type and size, and which has the functionality essential for ease of use, as well as building client confidence.
Remote working and compliance for financial services
The pandemic has had a huge effect on how businesses are run, and with remote working still commonplace, it's important that remote teams remain compliant with call recording obligations.
The Financial Authority Conduct (FCA) expects businesses to continue to comply with recording regulations as set out in their Senior Management Arrangements, Systems and Controls sourcebook (SYSC 10A), but to also make sure compliance is maintained when using other communication tools or apps to assist with remote working.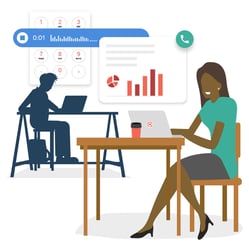 Recording calls became a legal obligation in 2009 so that they could be referenced as evidence should there be a dispute or in the event of potential malpractice. In addition, call recording would also be used to increase best practice, improve customer satisfaction, compliance and build confidence in the market generally. The FCA guidance is complex and is affected by associated laws such as The Telecommunications Regulations 2000, and The Data Protection Act.
When using CircleLoop's VoIP phone system, admins can control when calls are recorded across all users - and listen back, share and download recordings from the Caller Analytics area. The FCA states that call recordings should be held for a minimum of six months but at CircleLoop, we archive historic calls for twelve months which can be easily accessed date range functionality.
How we Keep your Data Secure
Around 15% of CircleLoop users work in the financial services sector, so it's a priority for us to make sure all data is kept safe. Check out what we have in place. CircleLoop is:
G-Cloud 11 listed. A framework that allows cloud-based solutions to sell their service to the public sector through a front-end catalogue known as The Digital Marketplace. It's managed by the Crown Commercial Service (CCS), which is an executive agency and trading fund of the Cabinet Office of the UK Government.
NCSC Cyber Essentials Certified. A Government-backed scheme and industry-supported certification. It's run by the National Cyber Security Centre (NCSC) and has security controls in place to fight most common cybersecurity threats. Having this certification emphasises CircleLoop's commitment to Cyber Security.
PCI-DSS Certified. The Payment Card Industry Data Security Standard is a set of security standards designed to ensure that all companies that accept, process, store or transmit credit card information maintain a secure environment.
Encrypted SRTP. All CircleLoop communications are done securely with an encrypted SRTP (Secure Real-time Transport Protocol) and its purpose is to secure the 'packets' of data that are transmitted via IP. Read more about how VoIP works here.
We take your security seriously by having high-level data security - each CircleLoop app for desktop (Mac and Windows) and mobile are native to each user's platform instead of being web-based. Plus, being a desktop-first solution means we work with best-in-class voice carriers to ensure the highest levels of availability and call quality.

VoIP Benefits for Financial Services
CircleLoop has over 60 smart features, designed to increase productivity and efficiency - whether for a customer-facing investment advisor, or a startup simply in need of a robust and secure internal communication system, CircleLoop has the best VoIP phone system for small businesses, as well as those that are more established.
Learn more about the best VoIP phone system features for financial services below:
Virtual Numbers
Virtual numbers enable businesses to create a local presence in over 60 countries. It's a great tool for all industry types including dispersed teams. Virtual numbers work on numerous devices so employees can quite literally be based anywhere and retain a professional appearance. It's easy to switch location too with local, national or international numbers - ideal for maintaining client confidence whilst remote working continues. Memorable numbers and consecutive number blocks are available too.
Professional IVR Menus
By utilising the customisable and professional IVR menus, you can make sure that every customer or client reaches the right person, as well as providing the support that they need. Also, you can set out-of-hours options to send calls to an answer phone message or to another team, and set call redirects when colleagues are unavailable or they simply don't pick up quickly enough, thereby ensuring that no call is missed. It's easy to configure inbound call routing - add a personal greeting and then choose which user or team to assign the calls to.
Time saving features
It's also easy to access customer or client information quickly too, with features like call notes and cloud call recordings assigned to individual contacts. As touched on earlier, this is invaluable when a customer requires specific information about a particular investment or insurance claim or is logging an issue.
Other features like conference calling, voicemail transcription and insightful features like call analytics, come as standard. So from the moment you sign up, you'll have access to all our features at no extra cost. Admins have full control over employees' operating hours and their privacy settings.
Integrations
If you are using a CRM system you'll be able to sync contacts and automatically log call activity. We integrate with CRMs such as Hubspot, Capsule and Office 365, plus, accounting tools like Xero and FreeAgent. We've over 25 integrations available and because CircleLoop always securely shares your call activity only with authorised integrations you can be confident that your data is in safe hands.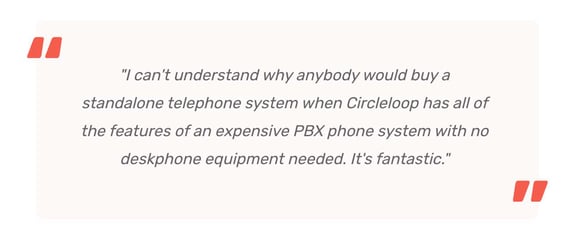 Lesson Moore - read the full Lesson Moore VoIP case study
Want to learn more? Book a free demo with our product specialist, or start a free 7-day trial - no credit card details required.