Today is International Women's Day, Monday 8th March 2021 and this year the theme is #ChooseToChallenge. Choose to challenge and call out gender bias and inequality to help create an inclusive world.
A challenged world is an alert world, and from challenge comes change. Let's all choose to challenge.
According to Women in Tech the number of working women in technology is significantly lower than most other UK work sectors, with just 19% of those working in the UK technology sector reported as being female.
But the UK technology sector is exploding, creating hundreds of new exciting and innovative roles every week, and having a diverse team is always beneficial to any company. It is crucial to have a balanced workforce when it comes to sharing ideas, leadership and creativity for new projects.
IWD has a number of missions that aim to help forge a gender equal world. One of those missions is to celebrate tech women and innovation, so with this in mind we want to encourage more women to consider tech as their career path.
How to get your career in Tech started
Whether you're straight out of university, or looking for a career change, you must continue to invest in your learning and further your education. Think about what sort of role might be a good fit for you, and seek out courses that are the most relevant. There are many free online courses that you could take. Try searching on The Institute of Coding, or check out Women in Tech dedicated training page where they've teamed up with Learning People who run training courses on Cyber security, software development and coding and project management.
Women in Tech have also put together a series of fantastic blogs, articles and guides that can advise you on getting started in a career in technology. They are all available here. Plus, you'll find a search tool for active job vacancies.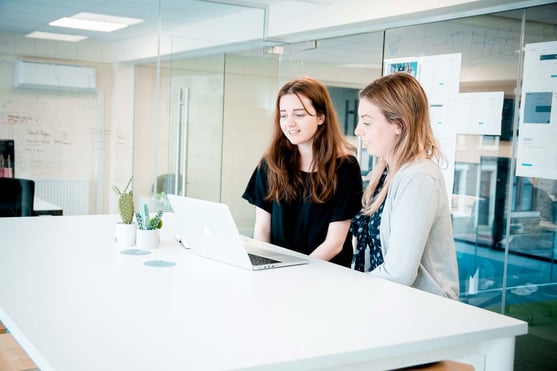 We're hiring
Ready to start your career in tech now?
We're now recruiting a Software Engineer who will contribute to building out new product features with JavaScript, Node.js + TypeScript, and a Infrastructure Engineer to be a key influence on our VoIP platform, with an emphasis on FreeSwitch, Asterisk & RTPEngine best practice. Click on the titles to learn more about each rob jole and apply.
We are also recruiting a Customer Success Executive role to join our growing team. If you're confident and tenacious as well as very articulate and engaging we'd love to hear from you. The Success in this role is about credibility and relationships. Customers will need to enjoy speaking with you and you'll need to know your stuff on our product.
You'll be working alongside Imogen, our Senior Customer Success Champion who'll be showing you the ropes. You can apply for the job via Indeed.
The Gender Pay Gap
The good news is that the gender pay gap in the tech sector is actually smaller than in other sectors - many big tech companies are keen to close the gap by pledging to pay the salary to women and men doing the same work. Intel releases an annual Gender Pay Gap report that highlights milestones they've hit and what they're continuing to address, such as the low representation of women in senior roles.
Further, with women who have less than two years experience, being better at negotiating pay than their male coworkers and a continuing skills shortage in the tech sector, it seems that earning capacities for women in tech is increasing.
Women in Tech: Manchester Talent
Manchester has a thriving technology sector and despite the lack of women in tech in the UK generally, there are many women who are doing great work in the technology sector here and who are perfect examples of the opportunities out there…
Noha Amin

was a Cyber Security Awareness Manager at TalkTalk - she's since moved on to take a role as an Information Security Officer at Handelsbanken.


Anna Holland Smith

, started as a software engineer at the BBC, and is now Director of Engineer Development at Automattic.


Christine McHugh

is the Founder of Doris IT, a business that aims to discover, develop and deliver fresh IT, tech, business and digital talent.


Helen Bett

is the IT Service Director at MAGs - she is responsible for

all technology that enables Manchester airport to operate.




Beckie Taylor

is the co-founder of Women in Technology North, and is responsible for a number of Women in Tech events - feel free to sign up here

.
Conversion rates with SaaS do not appear to be gender-dependent



When we look at figures for use of a tech based or SaaS (software as a service) product like CircleLoop, we see 30.2% of our visitors to our website over the year were female, and this has increased from 22.9% in April 2019.
Importantly we see no significant difference in the number of customers that convert to a paid customer between the genders - there is only a 0.7% difference in our conversion rate between male and female users.
About CircleLoop
Since 2016 we've been building the world's most powerful and flexible business phone system. CircleLoop runs in simple cloud-based apps rather than being reliant on cables, clunky hardware and complicated connections. It works with the tools you already use including Hubspot, Zoho and Office 365 and it's completely self-service with set up taking just a few minutes.
If you're just starting up, or whether your business is growing or is more established, CircleLoop is a solution you should be considering.