Communication plays a key role in the day to day running of your business. Whether you're messaging staff about important updates or calling prospective clients with a pitch, good communication is vital.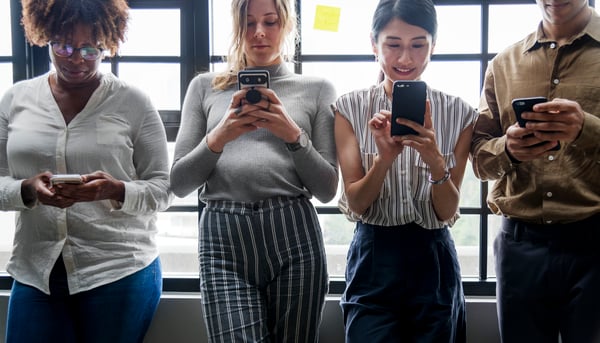 To find out how to best utilise communication apps and tools, we reached out to some of the biggest HubSpot partners in the UK. We wanted to know how they're staying ahead of the competition and what they think will be the next big thing for team communication. We asked them:
1) What is your favourite communication tool within your business? And why?
2) How often do you use it?
3) What's your comms tech stack?
4) How do these encourage you to work together with your team?
Here's what they had to say.
Rikki Lear, Director at

Digital 22
1. I'm going to be boring and say Gmail. The Google Suite is the focal point of our business and while new technologies are in place to improve our communications, we couldn't live without email.



2. All the time!

3. We use Zoom to host video calls with clients, although we still use Gmail when needed. Slack is great for internal messages between staff and we're looking at moving from a traditional VoIP system to CircleLoop for our phones.

We also use HubSpot as it allows us to live chat through websites and send mass automated emails.

4. We've spent a lot of time ensuring our communications tech stack enables teamwork rather than reducing it. Too many companies install things like Slack and see teamwork reduce because the use cases haven't been thought through.

Every piece of our communications tech stack has been chosen with a purpose. For example, Slack is for quick, throwaway chat and Zoom brings us closer to our clients.

But when needed, neither can replace face to face meetings and this is something we emphasise. Technology should solve a specific challenge and with the stack we have right now - I believe - it works.



1. We use Slack. We work remotely and it's essential for keeping everyone in touch and encouraging teamwork.



2. Me personally? Probably every 10-15 minutes during the day. There are quiet periods, of course, but there's a near regular chatter in the background across the company.

3. We use Slack, Office 365 and Basecamp 3.

4. Together, all these channels give people a range of choices for each kind of communication, from instant messaging through to a traditional phone call or an online video conference. It reduces interruptions but increases collaboration.



1. We use Slack and it works pretty well for us. It definitely helps reduce email communication.





2. All the time – we have a Slack channel for every client, for each office and we use it as our main comms channel.



3. In addition to Slack, we use email and a task management system.

4. We like the fact that historical conversations are recorded, and that the whole team has visibility into correspondence about a client


Clwyd Probert, Founder of

Whitehat
1. We have a number of internal communication channels. Email (Microsoft Exchange) is still the primary one. We use Slack and WhatsApp, but primary comms is still email.
2. It never stops!
3. Internally we use Slack, Microsoft Exchange, HubSpot CRM, WhatsApp, Skype and Zoom. When speaking to clients, we tend to use email, live web chat, chatbot, Facebook Messenger, Twitter, group email, support tickets (HubSpot), SMS, phone, Skype or Zoom. We also utilise HubSpot conversations.
4. Slack is useful in team conversations to share knowledge and engage in group discussions. Normal email is fine for 1:1 comms, CRM is used to share prospect and client interactions.
Zoom is a great way to do a live screen share and video links. The ability to record and then share the recordings is used a lot.
Looking to the future, we are reviewing the use of HubSpot video tech in marketing, sales and support.

Finding the Right Tools for Your Business
It's clear from speaking to these HubSpot agencies that communication methods are varied but verbal comms is still crucial. All that's changed is how we do it. Growing organisations need the latest tools to be able to communicate, both internally and with clients.
Phone calls are just as prevalent as they've always been, but there are systems available now that do a lot more than the traditional office phone. CircleLoop is an app-based system that allows your business to manage calls on the move.
We're used to apps making our life easier and this is no different. With CircleLoop you're able to utilise international phone numbers, a live activity feed, smart notifications and call recording.
For more information on CircleLoop, feel free to download our free comparison guide that's packed with helpful advice. It compares all of the phone systems available to you and helps you to choose one that suits your business. Get your free copy now by using the link below.