CircleLoop, the cloud-based phone system for business, today announces that we will fund a pledge to provide free business telephony to any school, healthcare provider or charity in Ireland who are facing remote working challenges due to the tightening of coronavirus restrictions.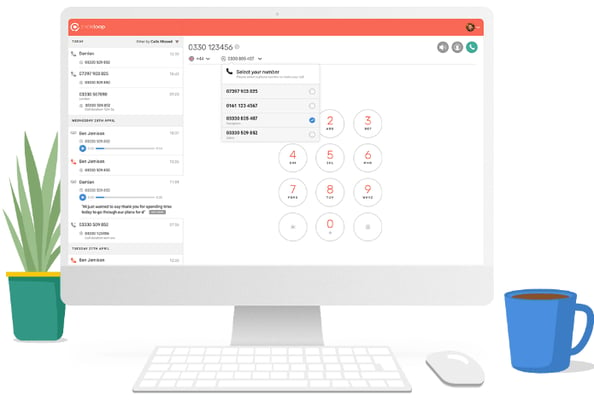 CircleLoop will be offered free of charge for the next 3 months to any existing or new customers who need to facilitate remote, mobile or flexible working at short notice. Our internet-based phone system can be live in a matter of minutes, following completion of a short online form, with no card or payment details required. It supports calling, call menus and greetings, voicemail transcription and a range of other features.
CircleLoop is packed with powerful business communication features such as local numbering, call recording and voicemail transcription. These services are all delivered in an easy to use platform with built-in, feature-rich integrations which can work alongside the likes of HubSpot, Pipedrive, Zoho, Zapier, Xero and 15+ others.
Damian Hanson, co-founder of CircleLoop, commented: "Here at CircleLoop we recognise the unprecedented issues that the Coronavirus outbreak is continuing to cause for businesses of all shapes and sizes. As a team we have already tried to assist in easing the pressures experienced by hundreds of schools, healthcare providers and charities in the UK by assisting them when needing to work remotely during self-isolation periods - we will now be extending this to assist the same industries in Ireland."
Schools, healthcare providers and charities looking to take advantage of this free service can sign-up instantly at here
ABOUT CIRCLELOOP
CircleLoop is a next generation phone system for business which runs in powerful desktop, web and mobile apps. Packed with smart features such as call recording, integrations and analytics it delivers huge flexibility and productivity benefits when compared to traditional phone systems. CircleLoop is a product owned by Mission Labs.


ABOUT MISSION LABS
Since 2016 we have been helping ambitious clients bring the future forward faster, by building and scaling world-class digital customer experiences. From FTSE 100 giants to the nation's largest government departments, Mission Labs delivers powerful platform tools and beautifully executed software to clients who understand the importance of putting their customers first. The company is headquartered in Lancashire with additional offices in Manchester.
For more information visit www.missionlabs.co.uk